Category
Technology
Publication date
22 September 2015
DrupalCon Barcelona 2015 Day 2
DrupalCon Barcelona. Day 2. The Annertech crew were up early (especially given our late night last night) and arrived at the convention centre. Here's our team's "best of the day" list - including one from Marta Paz, whom we've picked up as an honorary Annertechie for the week.
Mark
"I loved the talk by Tim Millwood and Dick Olsson about revisions in Drupal 8. We see a lot of tenders for large projects asking for an "audit trail" and the approach being taken with multiversions/revisions looks very, very promising."
Stella
"I liked the "Reducing Waste: Cut the Crap" session, because we implemented the blitz that was suggested at the start of projects very successfully at Annertech; it was great to have our theory validated."
Gavin
"My favourite session was "Mastering Twig". I realised there is a lot of Drupal 8 core that is not yet leveraging the greatness of Twig, and I'm looking forward to that changing."
Anthony
"I definitely like the "Reducing Waste: Cut the Crap" - I love the idea of sprints spikes; I'm convinced that a compressed timeline on a project will be to the project's benefit."
Andrew
"A big chunk of my day was taken up with the Acquia exam, though I certainly enjoyed putting my feet up afterwards at the Drupal 2020 Vision talk."
Mike
"My favourite session was also "Reducing Waste: Cut the Crap", an entertaining, enthusiastic, and knowledable presenter. (The worst thing was losing a tooth to a salad roll.)"
Martha
"MortenDK's talk on theming was my favourite. I like how the theme layer is disappearing and everything is going into Twig templates."
Congratulations to Andrew - our fifth Acquia-certified Drupal developer.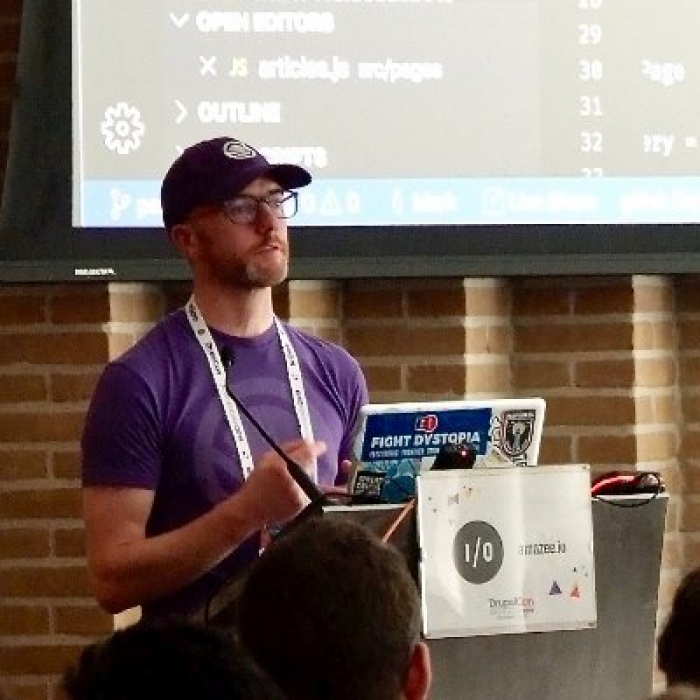 Mark Conroy
Director of Development
When not promoting sustainable front-end practices at conferences across Europe, Mark leads our development team to create ambitious digital experiences for clients, so they, in turn, can have success with their clients.