Category
Technology
Publication date
23 September 2015
DrupalCon Barcelona 2015 Day 3
Wow! What a day we had at DrupalCon Barcelona 2015. I know, personally, I had the best day i've ever had at a DrupalCon, attending a great keynote on web psychology, a talk that validated my thoughts on design in the browser, an awesome presentation on linked data and the semantic web, and that's without mentioning the BoFs on web apps versus websites and Twitter Bootstrap, and then ... oh man - that was a lot.
So, today's best bits:
Mark
I'm struggling to come up with my best moment of today given the amount of them. I think I'd probably choose the "interaction" idea of design in the browser - clients get to actually see how their websites will work, rather that just what they'll look like.
Stella
I passed the Acquia-certified backend developer exam. That was definitely the highlight of my day, though "beta-testing" the DrupalCon trivia night questions during dinner with the rest of the Annertech team was great fun.
Andrew
I had some great conversations about web accessibility before and after the session on "Inclusive Design", which has me really fired up for tomorrow's BoF on the same topic, hosted by me!
Gavin
I loved the design in the browser presentation, espeically how it spreads QA across the project, rather than tagging it on at the end.
Mike
Natalie Nahai's keynote was my highlight, it was really informative and the audience participation worked very well.
Anthony
I'm with Mike in finding the keynote on web pshychology as the best of the day. Really enjoyed Natalie's presentation style and the subtleties of how we use the web.
Tommy
I had to go home with a tummy bug. But thanks for bringing me biscuits!
Tomorrow is the final day of sessions and the DrupalCon trivia night. If you've never been to that, don't miss it.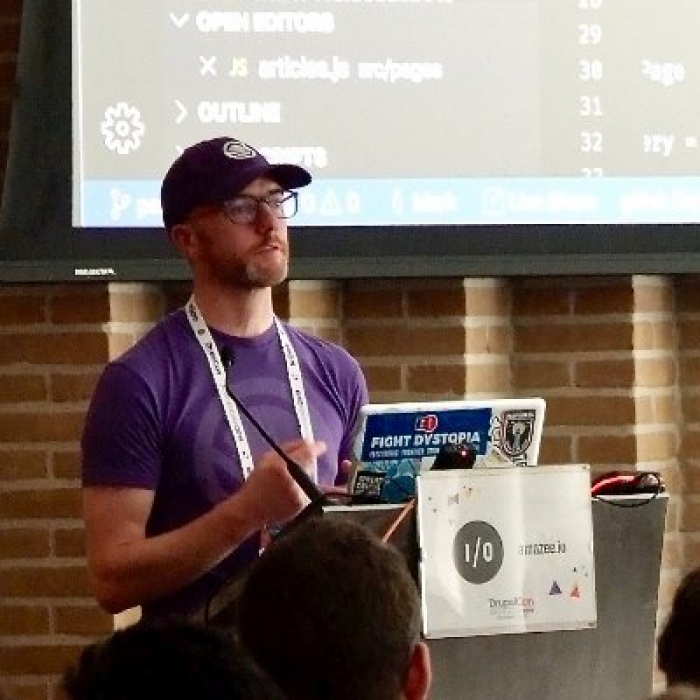 Mark Conroy
Director of Development
When not promoting sustainable front-end practices at conferences across Europe, Mark leads our development team to create ambitious digital experiences for clients, so they, in turn, can have success with their clients.