DrupalCon Vienna 2017 - a Retrospective
Last week the Annertech team headed to Vienna for a week of Drupal learning and sharing. With thirteen different tracks and various summits, there was a lot of great sessions to choose from. We were also privileged and honoured to have the opportunity to present five sessions ourselves, and of course, we once again played host to the Drupal Trivia Night. There was a lot going on, and it was a fantastic week, but here are just some of the key moments I experienced during the week.
Monday Summits
For me DrupalCon Vienna started with the Business Summit on the Monday. I had great difficulties in deciding whether to attend the Community Summit and the Business Summit, and while I still think I missed out on some very interesting discussions that happened at the Community Summit, the Business Summit still didn't disappoint. There we had great sessions and discussions on topics such as marketing and collaboration. In the afternoon workshop, we split out into groups based on our organisation size, which proved much more useful than past summits where the groups were based around topics.
Tuesday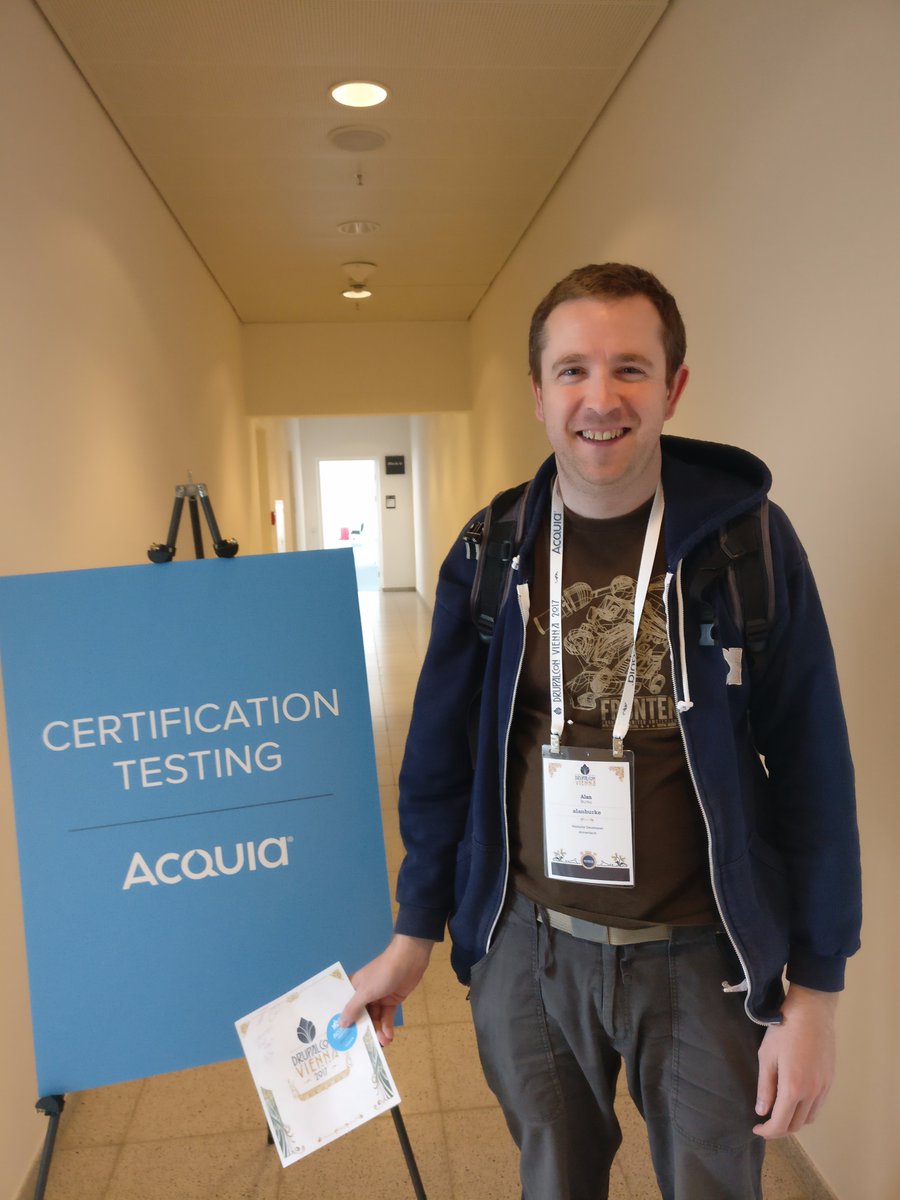 Unfortunately I didn't make it to the prenote on the Tuesday morning, but really enjoyed Dries' keynote, where he re-affirmed something I had already come around to believe - that Drupal is not for simple sites, but instead for sites or digital experiences that require a certain level of customisation or flexibility.
Mike had his session after the keynote on "Estimates are dead, long live forecasting!" which went well, though I was disappointed to have missed the start of it as I was too busy chatting to people! My session on "Lessons Learned from Building a Large Multilingual, Multi-region Site in Drupal 8" was in the afternoon, for which I had a full room and there was a good level of interest and good conversations afterwards. With my session out of the way, I was able to focus on enjoying the rest of the conference a lot more - oh yes, and finishing the trivia questions too!
On Tuesday night, we had a number of different things to celebrate, but one of them included Alan gaining his Acquia Developer Certification. Congrats Alan! 
Wednesday
Two more Annertechies were speaking on Wednesday, Andrew on "Core Accessibility: How are we doing, and what can we do better?" and Mark on "Back to the Future: No More Static Mockups!". Unfortunately I missed Mark's session as I was taking part in various meetings and BOFs on deciding the process for licensing DrupalCon Europe in 2019, and also what could be done to organise a major Drupal Europe 2018 event.
For me, Wednesday wrapped up with the annual Drupal CEO dinner, with great food and great conversation with a diverse group of people from Europe, the US and further afield. It really was a great evening, and I would have liked to have stayed longer but those trivia questions weren't going to write themselves!
Thursday
Thursday saw the last Annertech session given by Anthony on "Live Performance Workshop: A top-to-bottom performance overhaul", which for those of you who missed it, will also be at the upcoming Drupal Camp Dublin on the 20th and 21st October. I also took part in the Drupal marketing sprint, which saw people come together to create tangible marketing collatoral by the end of the four hour session. One of the key outcomes of it was the initial mapping of a Drupal buyer's journey, and the start of a blog post / showcase of publishing websites built with Drupal. It was a great initiative and one I hope will continue on.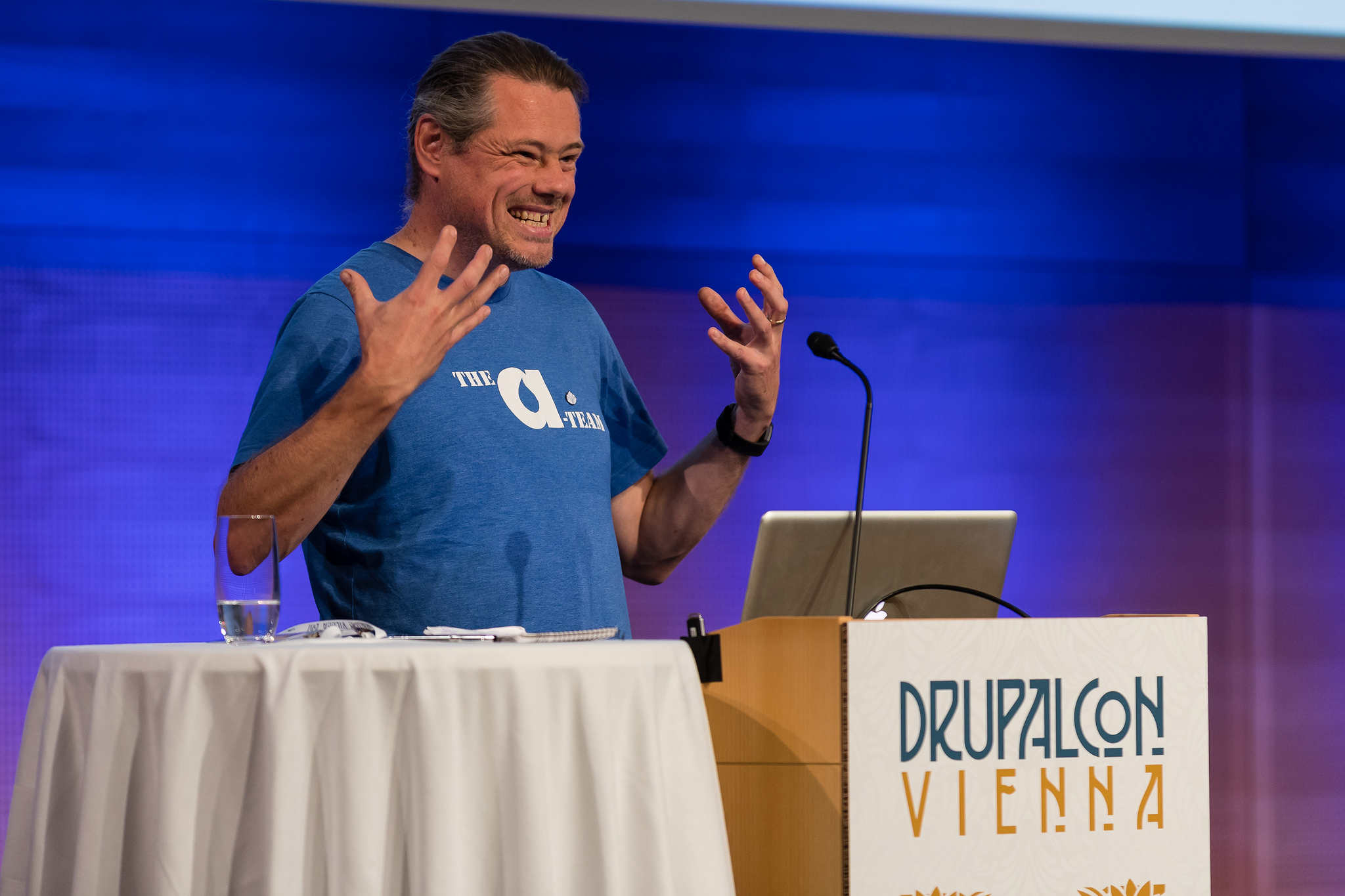 Of course, no DrupalCon would be complete without the (now) traditional Trivia night. It was a really fun way to wrap up the conference, and yes, I did get the questions finished in time! However, organising trivia night is a lot of work, so if anyone out there wants to get involved and help me write the questions for each trivia night, please do get in touch!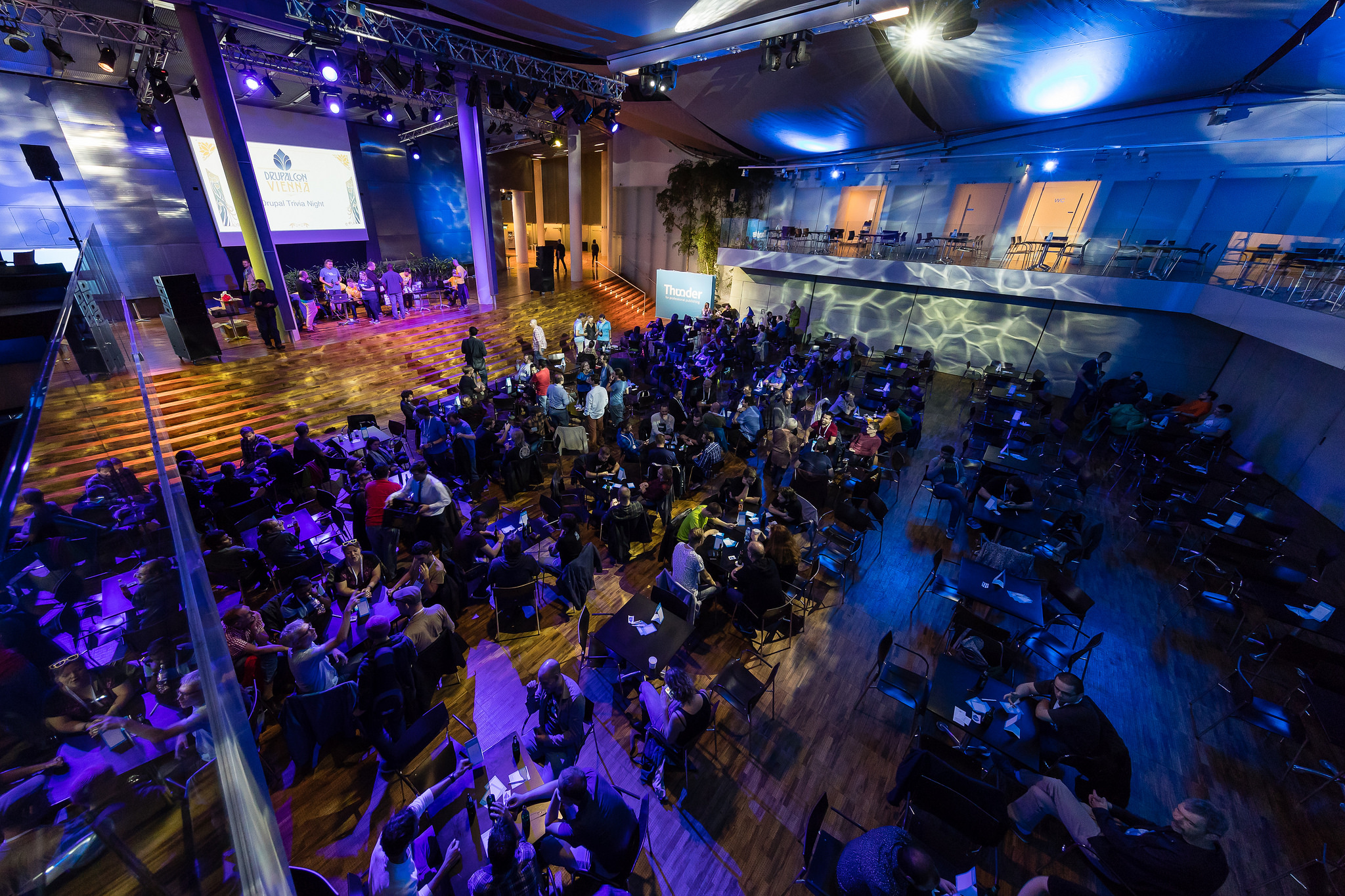 Highlights from the team
However, I wasn't the only Annertechie to make it to DrupalCon, so I asked the team to give me their top highlights from the conference, and here's what they said:
Mike
"There's still something really useful about having the whole team at the same conference as well as having the ability to hop across session boundaries and see something you wouldn't go to a topic-specific conference for".
Anthony
"Comment _why_, not what. That was my key take-away from the conference, thanks to a session by Commerce Guys. When documenting a function in code, the `what` of a function may change, making the comment outdated, but the `why` or the problem the function is fixing will most likely remain, and that is what should be documented."
Andrew
"There was a great birds-of-a-feather session about redesigning Drupal's admin interface.  It was great to have so many stakeholders together to talk about the scope of this idea, and it felt like a kick-off meeting for something ambitious. It was the first time I've been present at the start of a big project inside Drupal core, and it's going to be interesting to see how this gets refined into a plan."
Mark
"It's humbling to experience the amount of knowledge that is floating around the convention centre, being freely shared to solve some very complex issues. From my point of view, it was great to get direct access to core committers and maintainers about some issues that might arise during our development of the Out of the Box initiative."
Alan
"If you want to improve as a developer you need to see what the best in the field are up to.  Reading blog posts will only get you so far - there's no substitute for meeting the experts in the flesh and picking their brain"
Ricardo
"From a designer point of view the `CSS-in-JS: unexpected lessons for Drupal component design` session was my favourite session, with the highlight being the confirmation of what I already believed - that component based design is the way to go."
Gavin
"For me, the session on "Automatic Drupal Updates using Visual Regression & Continuous Integration" was fantastic, with my key takeaway being how to use automation to add value for your clients."
To wrap up - we all learned too much, met too many great people, had too little sleep, and are looking forward to doing it all over again at Drupal Europe 2018 - wherever that may be. Thank you DrupalCon Vienna!