Category
Technology
Publication date
13 September 2016
Meet the Annertechies You'll Meet at DrupalCon
Annertech will be descending upon DrupalCon with (nearly) our full team of "Annertechies". So much so that there will be more Annertechies in attendance than all other people from Irish agencies combined. With that kind of showing, we thought we'd introduce ourselves and let you get to know us.
Stella Power
Stella is Ireland's Drupal wunderkind. Founder of the Drupal Ireland Association, member of the Drupal security team (the only person from an Irish agency with that accolade), and managing director of Annertech, Stella is the kind of person that doesn't come along often enough. Stella has spoken at many European DrupalCons; this year she was track chair for the business track and is also the local liaison for DrupalCon.
Alan Burke
Alan is also a director of Annertech. When not keeping the invoices raised and paid, he's focussing on being a top-notch frontend developer. In this vein, his main passion is for website performance. Alan has spoken at a lot of DrupalCons over the years; this year he will be speaking about developing a co-lingual website for ireland.ie and why a multinational organisation might choose Drupal.
Dermot Frost
Poor Dermot has a tough life. He won't be able to make it to DrupalCon as he'll be preparing for a conference the following week in Boston. When not jet-setting, Dermot spends a lot of time building and maintaining server infrastructures.
Anthony Lindsay
Anthony is our lead support engineer. He makes sure that all our existing clients are happy. For Annertech, support often means on-going development of new features and enhancements to existing ones. If you have an existing website and would like us to support it, come talk to Anthony at Booth 901. This year he will give a presentation at DrupalCon about how remote working makes him happy.
Mike King
Mike keeps us all in check. He's our project manager. He makes sure we know what the client wants and deliver it to them on time, on budget, and with smiles on our faces. He was track chair for DrupalCon this year on the project management track.
Mark Conroy
Mark - me! - is a lead frontend developer with Annertech. He's very interested in maintainable code, design in the browser, component-based frontend, and how those three can be brought together. You can find him (too) often in the DrupalTwig slack. He'll be presenting at DrupalCon about getting started creating mobile/hybrid apps using Drupal as a backend and Ionic Framework as a frontend. Mark is presently chairperson of the Drupal Ireland Association.
Tommy Lynge Jørgensen
Tommy is one of our lead backend developers. He knows a lot about solr, and migrations, and backing up data. He comes from Denmark, lives in Ireland, and is the reason we have cake at Booth 901. Come for the code, stay for the cake!
Andrew Macpherson
Andrew is another lead backend developer in Annertech. He is the only core maintainer working for an Irish agency, having recently been made a core maintainer for accessibility. So, if you want an accessible Drupal website built by an Irish agency, get in contact with us. He will conduct a core conversation on the future of Drupal accessibility at DrupalCon.
Gavin Hughes
Gavin is one of our support engineers. Whilst Anthony makes sure that all our clients are happy, Gavin is the one beavering away in the background actually doing the work!!! (Sorry Anthony!) When not debugging issues and developing new features, he's probably kite surfing somewhere off the west coast of Ireland.
Bren Vaughan
Bren joined us recently as a project manager. Having trained as a developer, he is slowly recovering from his past life. He's also slowly recovering from participating in Iron Man competitions and other feats of endurance unknown to the rest of Annertech. He's got so much recovery to do, he won't make it to DrupalCon this year.
Ricardo Flores Galán
Ricardo, from Spain, is our in-house designer and UX expert. He checks the fine details of designs for consistency, brand adherence, vertical rhythm, and more. Oh, and his wife gave birth to a beautiful baby boy yesterday. CONGRATULATIONS. Ricardo is presently secretary of the Drupal Ireland Association.
Rob McCreary
Rob lives in Northern Ireland. He joined Annertech almost a year ago and has been doing some fantastic frontend work for us. Previously having worked in the non-profit sector he is a great compliment to many of the types of clients Annertech has historically serviced.
Adrien Sirjacques
Adrien is one of our backend developers, and has worked on a number of projects to add new features to existing sites and also some greenfields work. Though from France, he's very active in the Irish Drupal community and can be found each month at our Drupal Ireland meetup in Dublin.
Tom Bamford
Tom is English. He lives in France where he attends to the meadow, country walks, sunshine (which apparently is rare in Normandy) and frontend development. We're lucky to have him on board given his vast knowledge of Drupal, JavaScript, SASS and other complimentary items.
Karen Leech
Karen is also English. She also lives in France, and attends to the same things as Tom. Except, instead of frontend development she is a site builder and QA Analyst. You know when you miss out on a client request by just a tiny item? Karen is our backup to notice that and makes sure nothing gets to UAT without passing her exacting standards.
So that's it. A quick roundup of the Annertechies you'll (likely) meet at DrupalCon. We'll be at Booth 901 and here's some reasons why you should come talk to us.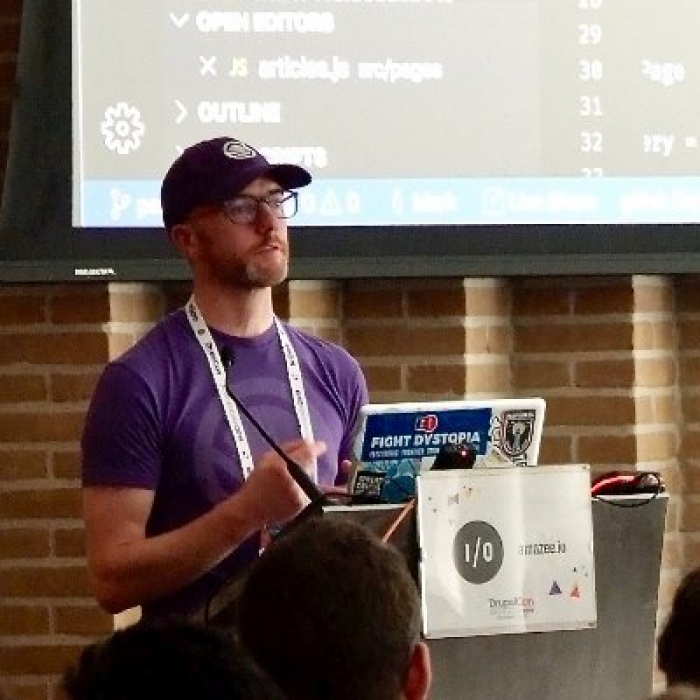 Mark Conroy
Director of Development
When not promoting sustainable front-end practices at conferences across Europe, Mark leads our development team to create ambitious digital experiences for clients, so they, in turn, can have success with their clients.