Category
Design
Publication date
17 October 2018
10 Highlights from UXDX Dublin
People traveled from far and wide to attend the UXDX (User Experience Developer Experience) event in Dublin. Some of the attendees came from Africa, Canada, US and China. We, Annertech's UX team, felt it was a welcome gift to have it on our doorstep.
From the cool water bottle gifted to the attendees upon entering the building, to the food trucks on the grounds of the venue, every detail was considered in the organisation of the two-day experience. It was clear from the get-go that this conference was as much about user experience as it was about making sure the conference attendees' user experience was top class. Speakers were flown in from all corners of the globe to share knowledge and advice about their work and how they collaborate with others.
The event did not disappoint. Now that the stiffness in our necks from nodding along in agreement to the speakers has abated, we're finally able to type up our 10 highlights from the event. So, without further ado:
Ricardo's highlights: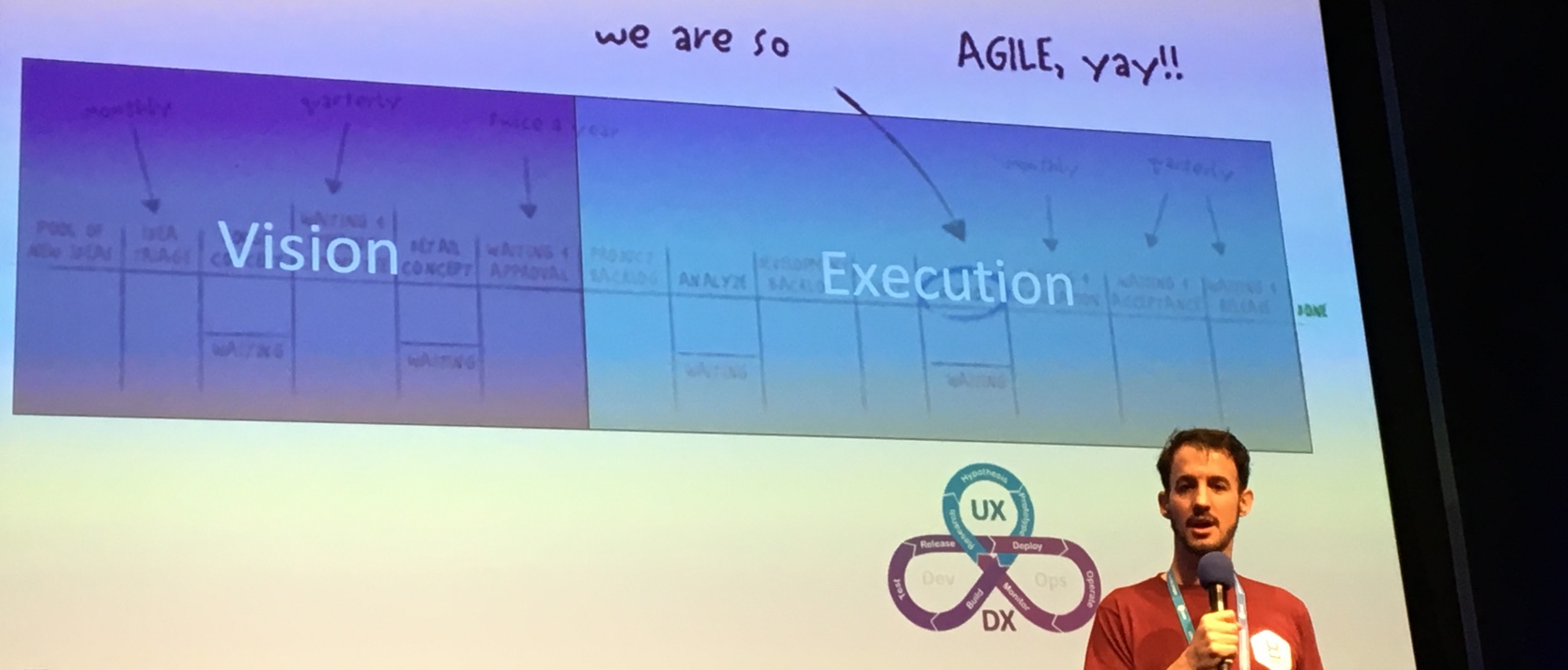 1. The whole concept of UXDX
My first highlight from UXDX was actually the whole concept of bringing together UXDX (User Experience and Development Experience) in the first place. It was refreshing to see in one conference so many different angles and approaches to similar issues. In a world where these type of events are very specific, it was amazing to have a mix of topics, from a talk by Google's director of UX to different project managers, CTOs, founders, and many more.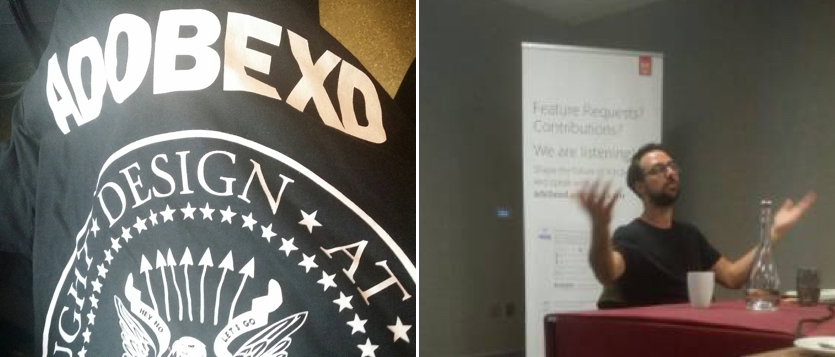 2. Adobe XD Workshop with Mattia Compagnucci
UXDX Conf 2018 started with a training day on Wednesday, before the full conference on Thursday and Friday. We attended the Adobe XD Deep Dive Workshop with Italian experience designer Mattia Compagnucci.
We use other tools for UX prototyping in Annertech but wanted to explore new possibilities, so a deep dive workshop sounded ideal. The session was a half day one and was attended not only by designers but by a cross-section of event attendees that wanted an overview of the prototyping tool in action.
Although the workshop exercise was impressive and highlighted the value of a prototyping tool when communicating designs, we don't feel there is much in XD that we cannot achieve with our current (ever-evolving) design system which includes Sketch, Sketch Cloud, Craft, InVision/Figma, and PatternLab as a way to communicate designs to developers and clients.
I even won a t-shirt for the best tweet of the day (see image above). As everybody knows, if you tie the hands of an Italian he cannot talk. Not bad for a Ramones fan such as myself. Thanks Mattia!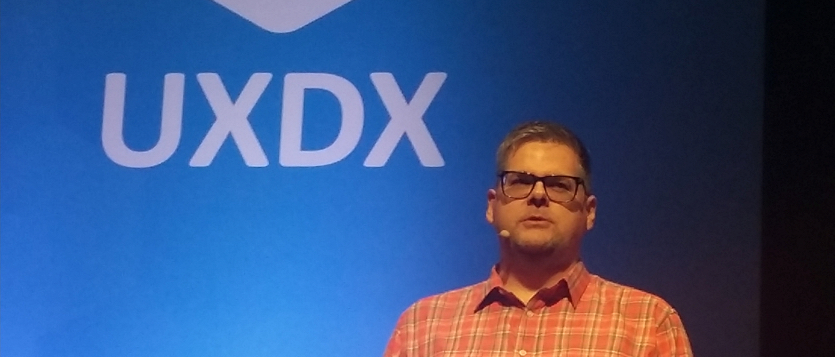 3. That Loving Feeling: How Companies Lost It, and How to Bring It Back by Capital One
By Richard Dalton, Head of Design of Capital One
This was a talk about unintended consequences, (for example: waiting for some eggs and toast in the morning in a hotel room but the room service taking 90 minutes!). During the talk Richard discussed how the world was an easier place to live in in the past and how it was certainly more human-focussed when we did more simple things like going to a shop and having a good chat while purchasing.
We were told we need less of a customer experience (CX) and more of a human experience (HX). As the Galician poet, Rosalía de Castro wrote more than a century ago, "light and progress everywhere, but the heart still doubts". We need to bring the "Human touch" as an important part of the equation.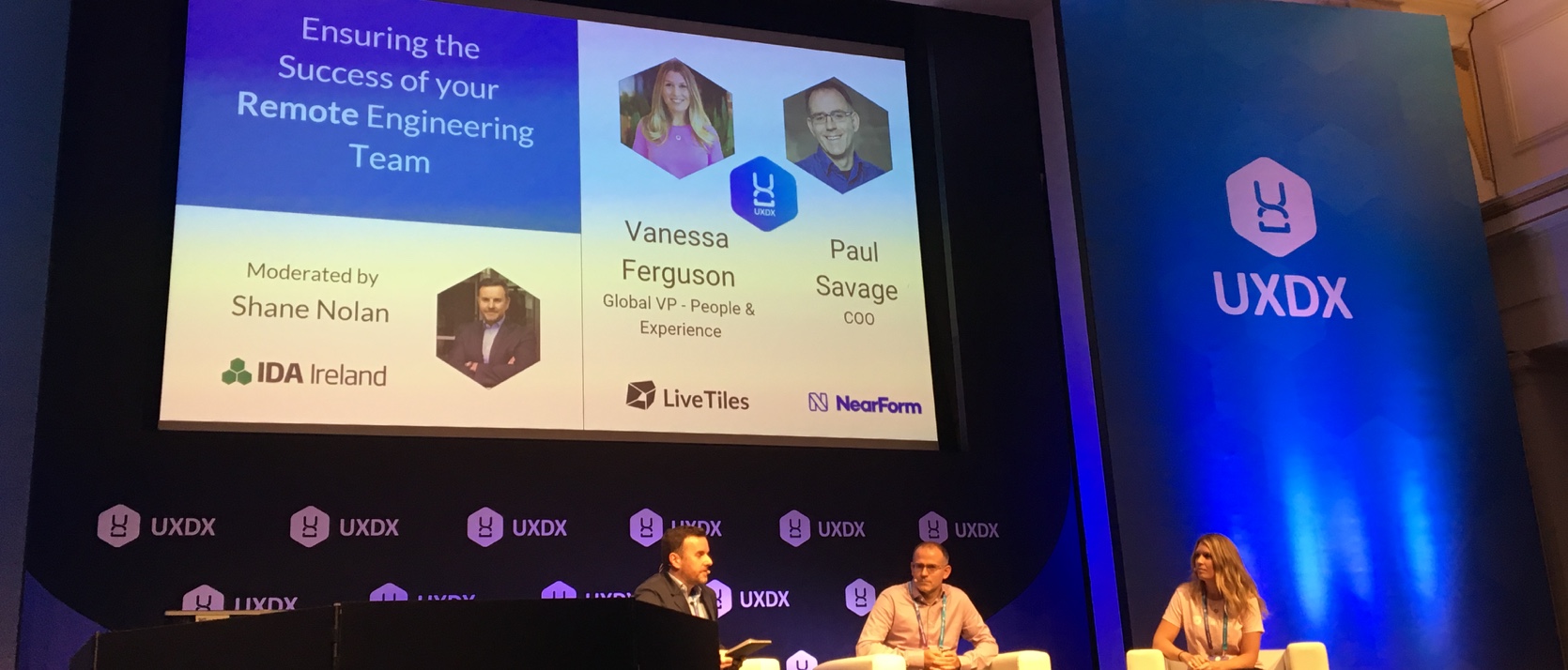 4. Panel Discussions
Ensuring the Success of your Remote Engineering Team with Paul Savage, COO, nearForm and Vanessa Ferguson, Global VP - People & Experience, LiveTiles

Preventing Burnout with Val Scholz, Head of Growth, Revolut
Not only the workshops and the conference talks were very good but also the panel discussions.
Working for a distributed company such as Annertech the "Ensuring the Success of your Remote Engineering Team" Thursday's panel was particularly interesting. Remote working sounds great (and I can guarantee it is!). This conversation between Paul Savage (nearForm) and Vanessa Ferguson (LiveTiles) showed the importance of investing in connectivity and how the fear of isolation needs to be kept in mind when building a team where members will be in different locations.
A follow-on from that is the need to measure productivity to ensure people don't burn out. This led nicely into another panel that took place on Friday: "Preventing Burnout" by Val Scholz (Revolut). This one surprised me. I was expecting the usual take care of yourself with mindful meditation, life balance, the right amount of breaks and consumption of water... the usual "mens sana in corpore sano" (healthy mind, healthy body) but instead we encountered a different approach which focused on making an impact, taking responsibility and clock up the hours, which felt to me more like "ensuring burnout".
Val's point was that working long doesn't necessarily mean that it will make people unhappy, that working hard and long to make an impact will make people happy and satisfied. He believes that what actually makes people unhappy is not knowing what they want.
The only advice he gave to prevent burnout, really, was an example set by their CEO: "work 80 to 100 hours per week and take lots of vacations".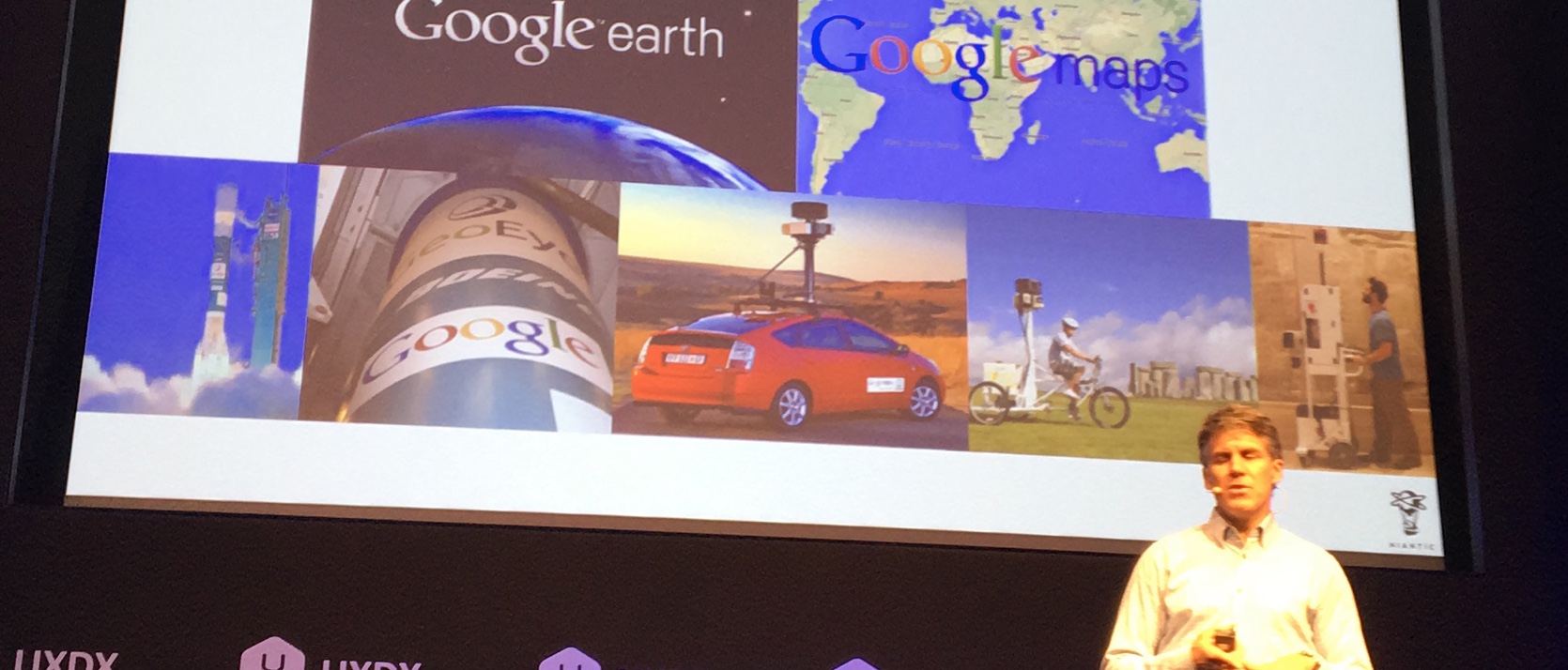 5. Launching a Cultural Phenomenon: The Next Phase for Niantic Post Pokemon Go
By Phil Keslin (CTO & Founder, Niantic Inc)
The last talk of the conference was by Phil Keslin (Niantic Labs), a man who is well known for being an example of delivering again and again and again…
As I could hear someone saying on the rows behind ours: "Are you telling me that this man not only invented Google maps (Earth, Street View and all) but also Pokémon GO?" Well, the answer is 'yes'.
It was great to see the reason that persuaded Keslin to create something like Pokémon GO, this being bringing people back to the outdoors. This was cleverly portrayed by one of his presentation slides where we could see two children playing computer games in their bedrooms. The games they were playing had the "illusion" of being outdoors while we could see an opened window with the "real" outside world, being completely ignored.
He even hinted about what's next for their company. All we can say is that it has something to do with Harry Potter.
Lisa's highlights:

6. Design and prototyping
By David Hoang, Head of Product Design at One Medical.
The idea of continuous improvement (Kaizen) was the key message in many of the talks at the conference. However, this talk by David seemed quite fitting to the essence of 'continuous improvement'.
David spoke passionately about why prototyping is important, how to nurture a prototyping culture, the many faces of prototyping and the 'Now, Next, Future' Framework.
He told stories about how he hates when people say a design works like 'magic'. He goes onto to say 'Design is not magic. It's a rigorous process of exploration, iteration and validation until you reach your outcome; a process that makes the end user feel like it is magic'.
We constantly hear of 'validating our designs'. However, as David points out 'the aim of prototyping is to prove all your ideas wrong...until they are right.'
Ideal prototypes give high insights at low cost.
David referred to his team and users creating a product to allow patients to check in at a hospital reception. They used role-play with their prototype on an iPad to get the full experience of the process. As he points out, 'prototyping is not only for makers and builders. Everyone participates.'
I can see why this was important to gathering evidence-based insights to help inform their design decisions even further and to help build empathy in the researchers and designers working on the project.
What came across in David's talk was the focus on team work when prototyping. The team dedicates each Friday to collaborating and prototyping for a problem they want to solve. They call it FigmaFriday. Figma is one of the design tools they use to create their designs. This definitely hones back to the meaning of the Medici Effect, why the most powerful innovation happens at the "Intersection," where ideas and concepts from diverse industries, cultures, and disciplines collide.
Some other prototyping tools mentioned were: InVision, Principle, Axure, XCode.
David is a big advocate of User testing every sprint to get nuggets of learning. To conclude, he advised using prototypes to convey the future state of your product strategy in an engaging way.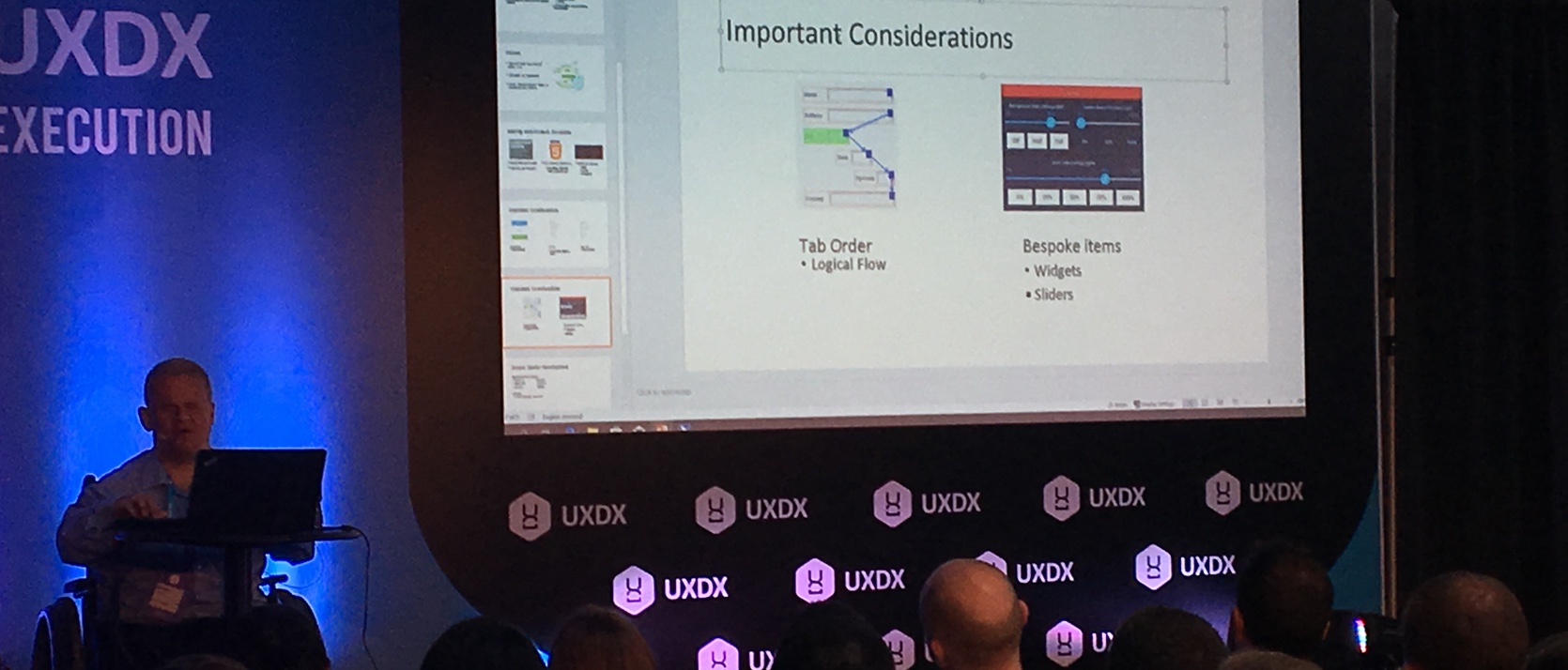 7. Accessibility.
By Brian Dalton, QA Digital Tester from Aer Lingus
What struck me most about Brian was his humble and down-to-earth presence. He spoke about making web content accessible. He demonstrated an example of good accessibility on the RTE website and poor accessibility on a cinema website while using his screen reader. Brian uses a screen reader, not to demonstrate how screen readers work, but to help him navigate websites on a daily basis as he is blind. The screen reader calls out the type and title of content as it appears on the screen.
He mentions key considerations when making web content accessible were the use of HTML5 elements (headings, buttons, form controls etc), ARIA attributes (role, state, property), tab order, logical flow, bespoke items (widgets, sliders) among other considerations.
Brian mentioned how to we can drive accessibility forward but first we need to acknowledge that 18.7% of people have a disability (U.S) and 3.3% have a visual impairment.
I would go a step further to fully consider that people with disabilities form one of the largest user groups in the world. According to a report by the United Nations in 2011, it was estimated there were 1 to 1.3 billion people with disabilities in the world.
Things are slowly getting better as there is an awareness and more knowledge available compared to 10 years ago. Thanks to Brian working for Aer Lingus, he is helping to improve the user journey for every visitor to their website. Yes, there's the WCAG standards but as a member in the audience pointed out, even these guidelines are difficult to navigate and absorb. I think every company needs a QA tester with a disability to shine a light on how 'user-friendly' your product actually is. To sum it up, good design enables and bad design disables.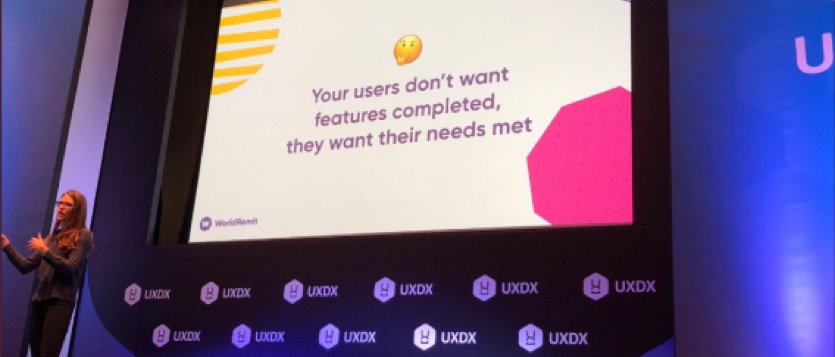 8. Saying No to Features
By Alice Newton, Chief Product Officer from World Remit
Alice opens with a statement 'Stop creating lists of features'. The problem with roadmaps are they usually show the dates for the release of features. However, we need to talk about problems and outcomes. She goes on to say we should commit to an outcome, not a feature set, that meets the needs of your users.
Alice gives an example of lateral thinking that worked to solve the problem of elevator waiting times. Occupants were complaining of the waiting times in their multi-storey office block in New York. No engineering solution could be achieved as the building was so old. They discovered that the waiting time, merely a few minutes, was the result of boredom. One new hire, with a background in psychology, who was on the building management team, suggested installing mirrors so the occupants could look at themselves and others without appearing to do so. The manager of the building installed the mirrors at low cost and the complaints about waiting times stopped. The idea that mirrors, instead of another elevator could resolve the problem reiterated the point that sometimes we just need to improve existing features i.e the area surrounding the elevator.
Alice points out there are many reasons for not getting stakeholder buy-in, mainly because designers and/or product managers don't explain themselves. You need to explain the problem you want to solve i.e if the other person needs to know 'how to cross a river', they need to know what is ahead of them in order to take the next step. You also need to get input on the causes of problems, not the solutions, that's why research is key to creating a successful product.
Alice advises, that if you're a manager or lead in a new business and a creative team doesn't exist; create a team and give them the freedom to test a plan that has an outcome-driven approach. Once you prove that it works, you get greater buy-in from stakeholders.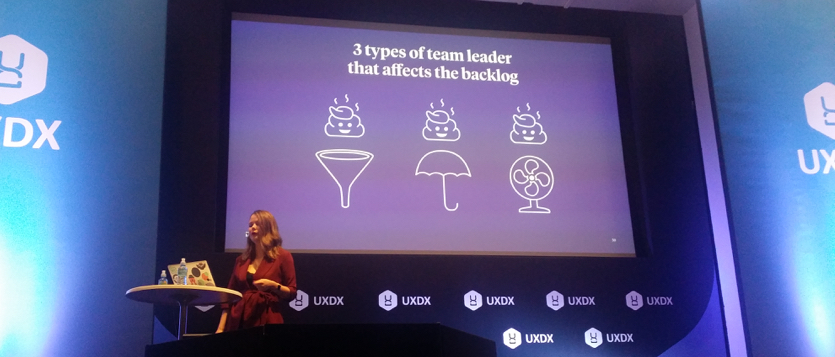 9. The Art of Prioritisation in Product Development
By Anna Sitnikova, Product Manager from iZettle
Anna is an intelligent speaker with a great sense of humour and knows how to warm her audience. She commanded the crowd with her wit and engaging personal slides, some slides showing her new baby, whom she referred to as the CEO (Chief Eating Officer).
Anna spoke about 'the process of deciding what to do next' and how market research is very important when deciding to know what needs to be prioritised. The user's problems should be prioritised to help gain an understanding of the next step.
It was interesting how honest and practical Anna was in her presentation on her own experience of how to push back from stakeholders' 'great ideas' that they may have come up with in the shower that morning. Using 'The Art of Saying No' she asks 'why?' to get to the route of the reason for the suggestion/idea from stakeholders.
She advises ways on how to say 'no' in order to prioritise problems, not solutions.
Responses Anna gives when stakeholders have their 'great ideas'.
Not now - This maybe due to the lack of capacity or resources at the time.
Not us - This is not a project that we are willing to take on as it doesn't have a part in our team skills and/or vision or product focus.
Not at all - We won't be acting on this idea as it isn't a user need or want.
She also talks about 3 types of leaders that could disrupt your team's focus and plan:
The shit funnel (the potential direct affect of a leader on a team member where the Manager needs to funnel the shit away from them).
The shit umbrella (the affect of a leader on part or all of the team, where the manager needs to protect the team from numerous distractions).
The shit fan (the affect of a leader constantly disrupting the whole team's focus).
Anna touches on the importance of protecting her team from these types of leaders which can result in losing focus caused by other distractions and influences.
She summarises 'The art of keeping focus' in a few lines:
Consent, not consensus (We don't need everyone on the team to completely agree but just to consent to give it a go, experiment and see).
Disagree and experiment (It's ok to disagree on a team but we should keep an open mind. When the team has insights, they will be able to know more).
10. The Art of Building an Impactful Product
By Deborah Clarke, Head of Product Design from Car Trawler.
Deborah gave a very inspiring and insightful talk on testing their product with users. Continuous improvement is evident in every touch point in Car Trawler. Car Trawler is a car B2B travel technology company. They build and test with few hypotheses to optimise their product. Deborah shared some interesting examples of how they increased conversions on mobile by 40% by adding small image thumbnails to the menu list of cars with two informational text areas below the image.
On desktop, they noticed that users didn't need to see a large map of where the car hire locations were for a particular car, so they made the car and its details more prominent on the page. They replaced it with a call to action button so the user could open the map as a popover if needed. This helped increase conversions and decreased the user's time that it took to book a rental car.
They also tested a micro-interaction that triggered when the user added a car to the basket. The basket wiggled to give feedback to the user the item had successfully been added to the basket. These small moments of delight further increased conversions on mobile.
One other element that the design team discovered was that 53% of users didn't know the difference between 'Basic' and 'Premium' insurance so they created a simple copy change using AB testing on the words A: 'Standard' and B: 'Premium'. The B version 'Premium' converted 11% more than the 'Standard' term as there was confusion over what 'Standard' meant.
The main takeaway from this impressive talk on real case studies was to always test your assumptions. Look at what already exists and see how it can be further improved.
Conclusion
As an agency, it is difficult to compare with the workings of a company or brand when it comes to continuous improvement of a product, as there are limitations with budgets and scope and we don't work on a single product. However, our time at the conference has proven that, as an agency with User Experience Research and Design capabilities, at Annertech we are doing things right. It has further fueled our discussions about how we can continuously improve our workflows and processes to give the best value to our clients. We constantly strive to incorporate best practices and approaches into our work to change mindsets, involve people and make user-driven decisions backed up by research.
Authors:
Ricardo Flores Galan (Senior UX Designer) & Lisa Reburn (Senior UX Designer)