Category
News
Publication date
10 October 2022
The best moments of DrupalCon Prague
Time to read
5 minutes read
From Trivia Night to the inaugural Women in Drupal event to the announcement of next year's DrupalCon Europe's host city… we have so many great memories from DrupalCon Prague. These are our favourites.
1. Stella winning a Women in Drupal award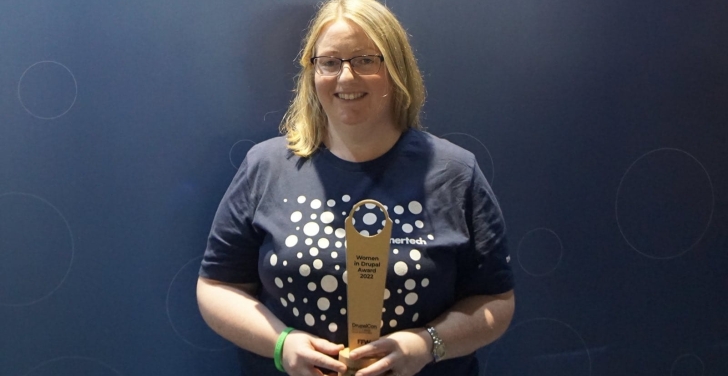 Our managing director Stella Power received a Women in Drupal award in the Scale category. It was fitting, seeing as she'd presented a session on migrating at scale about an hour before the Women in Drupal event.
Stella's contributions to Drupal have been massive. She's contributed and maintained many modules, is a member of the international Drupal Security Team, is on the DrupalCon Europe Advisory Board, and co-founded the Drupal Ireland Association.
Her focus now is on promoting Drupal and helping organise Drupal events. Stella has also overseen the growth of Annertech to more than 40 staff members.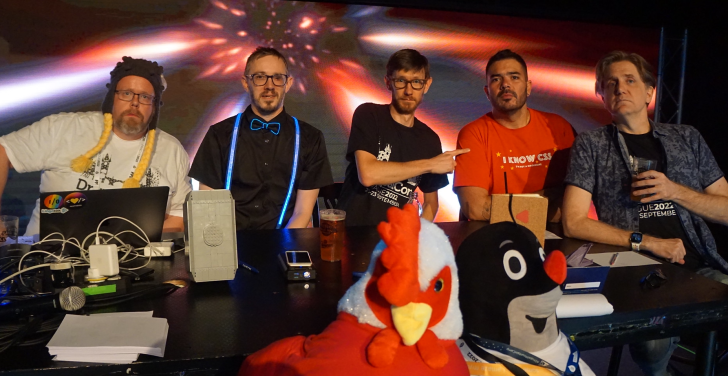 One of the highlights of every DrupalCon is this fantastic quiz night. As usual, the Annertech team was out in full force, with our Director of Technology Alan Burke donning his quizmaster hat and Tom Bamford, Juanluis Lozano and the two Johns (Cook and Albin Wilkins) joining Hilmar Hallbjörnsson AKA Drupal Viking on the judging panel. Plus we had Annertechies running the answer sheets to the judges as well as setting the questions.
 
For many of us it was our first in-person event in years – there was great energy and a lot of love in the room. It was also the first time that many Annertech team members had met in person too.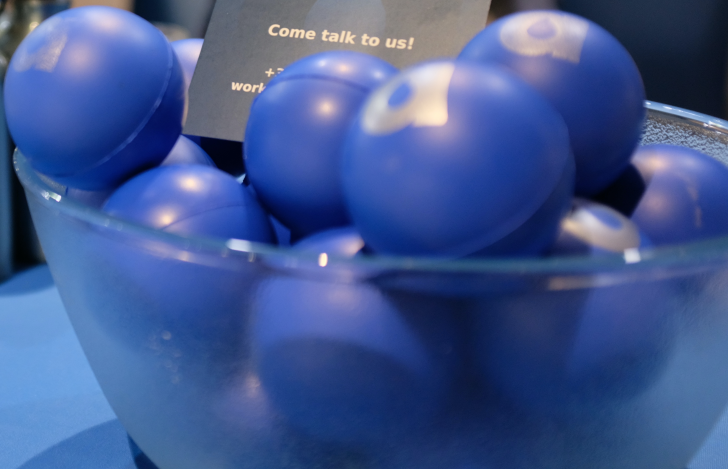 This will go down as one of Annertech's big DrupalCon moments. It was incredible walking into the exhibition hall to see (and hear) a huge crowd around the Annertech stand, taking it in turns to try to bounce our swag stress balls into the glass bowl we had been using to display them.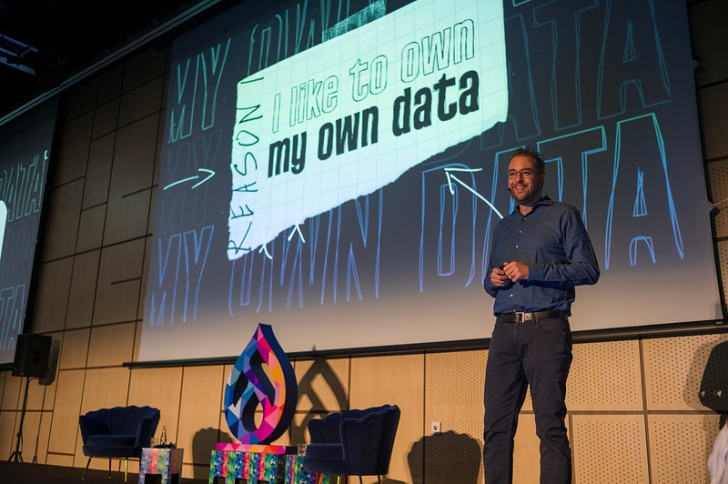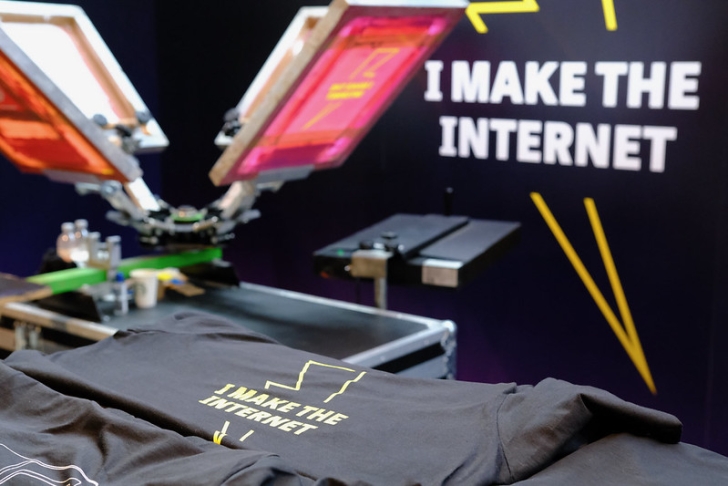 Always a highlight, you could spot the experienced DrupalConners because they were the ones who arrived with half-empty suitcases. From T-shirts, to socks, to bottles, to notebooks, pens and stickers, the exhibitors pulled out all the stops to make sure that suitcases would be hard to close for the trip home. Our favourite swag items were hands down the socks – both Pantheon and Acquia had some, and they're warm and comfy! The other standout was Pantheon's pick-and-print T-shirt booth with its Stanley/Stella eco-friendly shirts.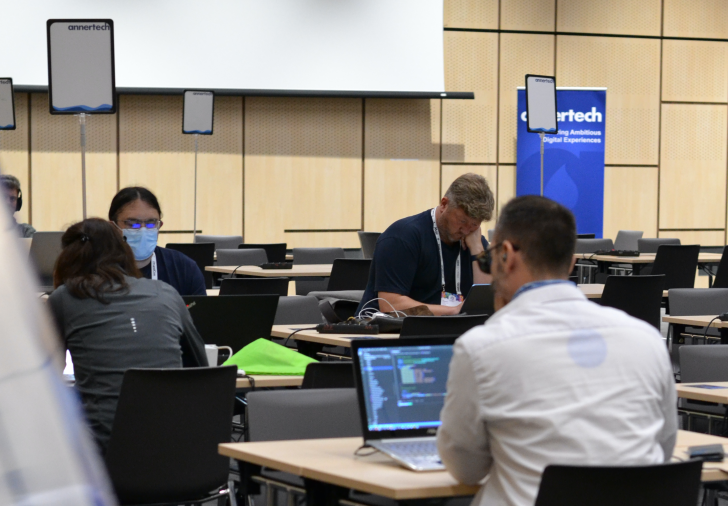 This is always pencilled into Annertechies' diaries. We love Drupal, and contributing to Drupal, and hanging out with others who are doing the same.
And sometimes, the solution isn't what you want it to be – for example this Umami issue that was raised years ago, and which Adrien Sirjacques was keen to work on. The idea was to convert the demo content for Unami from CSV to JSON and demo JSON:API at the same time. Unfortunately, after some work, it was decided this change wasn't a particularly effective use of Drupal's JSON:API capabilities. But still at least there was some closure after a few years.
Bill Seremetis and Tony Barker dealt with an issue to simplify the field markup, an idea originally proposed by our Director of Development Mark Conroy. Unfortunately this opened a can of worms because it affects many areas of core so there will be a fair amount of work ahead.
Bill also wrote and prepared the area for the official documentation for the project browser module which was such a hot topic throughout the conference (and in the process he got the chance to meet Chris Wells with whom he co-maintains the dgo.to and dgo.re sites).
There was a buzz around front-end tasks for Drupal 10 readiness, documenting changes to theming coming in Drupal 10 and solving some problems with the automated tests. There were so many people collaborating on this that the tables had to be reorganised.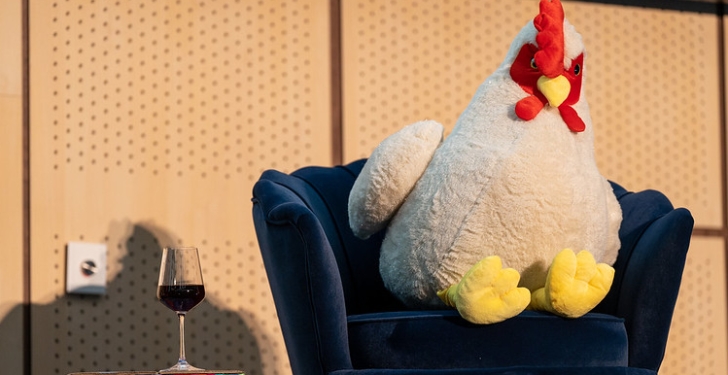 It was a team mission to guess where the next DrupalCon will be held. Our guesses ranged from Portugal to Iceland, and by the time the announcement was made during the closing ceremony, we had just about worked our way through Europe. Kudos to those who kept this a very well-kept secret. May Lille be as good to us in 2023 as Prague was in 2022.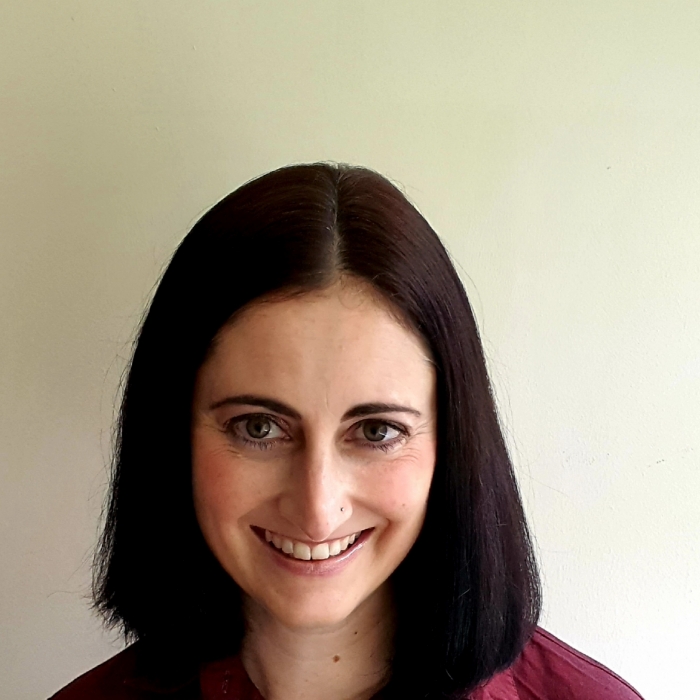 Alison Visser
Head of Content
After more than two decades in journalism, Alison now collaborates with Annertech's clients to ensure that their content is the best it possibly can be.