Category
News
Publication date
17 May 2022
Meet the Team: Mark Conroy, Director of Development
Time to read
8 minutes read
Mark Conroy is Annertech's director of development. He chats to Alison Visser about how he fell in love with the web, the first website he saw, and that one time he 'got to play' for Ireland.
Alison: What does your role as director of development actually entail?
Mark: I lead the projects team. Director of development is development in terms of software development or website development rather than business development or company development.
I look at how we build websites at Annertech and that everyone who works within the project team builds websites in a consistent manner so that when the managed services team receives them there aren't too many discrepancies between one website and the next.
There is phrase I like… "think like an agency". I like to reflect on this when working on a project and it is a guiding principle for everything that I do at Annertech. We're not just building a website for one client; we are thinking with an agency mind.
This website has to be maintained by our colleagues who weren't involved in building it in the first place so we try to make sure that there is consistency between each project. We are building a scalable system and repeatable patterns for how websites are built. And what that should mean for us in the longer term is that we can build more websites quicker - we work smarter.
Alison: How did you actually end up in this line of work?
Mark: I went to college to study religion, English and philosophy. That was followed by a master's in English and political science, and a post grad in education and I became a teacher for seven years. And then I lost my teaching job.
Back in the recession the pupil-teacher ration was  20:1 and then they changed that to 19:1 so the school I was in had too many teachers and I was let go. I had been making websites for friends and the school I was teaching at, just as a hobby, so I decided to charge people instead of doing it for free. I eventually joined Annertech in December 2013.
I also did some writing. I wrote an English textbook for secondary school. I still get royalties. I forget about it and then every June or July a cheque arrives. It's a nice little surprise. Just as we're going on our holidays.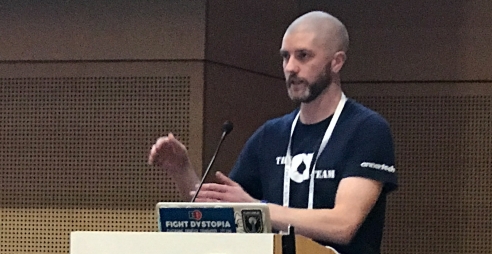 Alison: You're quite passionate about development and the job you're doing now. What is it that makes you love it?
Mark: I love the web. From the moment I first saw a website I was hooked. I was up in Dublin City University, where my brother was doing computer science. I was doing my leaving certificate and I went up there to stay the night.
I had no interest in computers or programming or stuff like that. He took me down to one of the computer labs to show me what the internet was. I'd heard about the internet - you can see all these things and you can talk to other people in chat rooms – and the first page I ever loaded was the Nine Inch Nails website. And I thought "this is mad, I'm going to see things about Nine Inch Nails" and the page started loading (shows different levels with his hands) … I just sat there looking at it. I've always loved the web.
When I was young, I had a computer at home with a dial-up connection, and I had a 20m cable going from my parents' bedroom [where the phone jack was] into my bedroom, the whole way across the house, and I had to roll it up again every night but I absolutely loved it.
And now I really love my job. I love the idea that you're creating something. I don't work with the design of the websites but there's great creativity in writing code, and there's a great artistry in it.
We say that if you're not embarrassed by the code you wrote six months ago then you're doing something wrong, but I love looking back on code I wrote six months ago and thinking 'wow that held up fairly well; that's nice code'.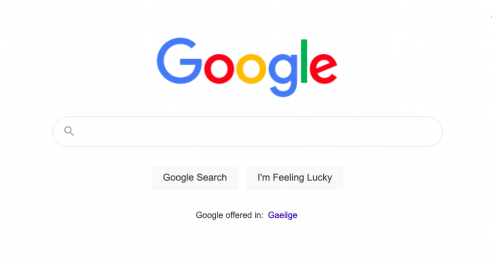 I've got a pretty investigative mind, a problem-solving mind, from studying philosophy in college,  and I'd always been interested in that kind of deeper thinking. I get to do a lot of that in my job, to get a design to look simple.
Take the Google home page. All it is is a one-input box and a submit button. That's very simple. But it's a little more complex in the background and I love the idea of trying to solve complex issues, trying to figure out really tricky problems.
I don't do the backend but on the frontend there are as many challenging things to do, certainly with the modern expectations that people have for websites. People almost want websites to have an app kind of feel to it, and trying to figure out those things is tricky.
I like having a group of people working with me. I have about 15 people working in the project team and I like working with them and defining our standards and the 'think like an agency' position. Our work crosses website types and teams, and leading teams is really cool.
I got to play for my country, is the phrase I use. You know, if you play for your national soccer team, or go to the Olympics… I do web design and as far as I'm concerned I got to play for my country. So I'm really proud I was the leader on Ireland.ie. It's been repurposed now, and we don't do it anymore, but that was without a doubt my high point. 
Alison: Is there any one project that you've worked on that you've been really proud of?
Mark: Yes. There always has been one. We don't have a written rule that we'd rather make a loss than make bad code but it seems to be what we do. We keep working on a project, even if we're making a loss, until the project is completely finished and is of a very high standard. But the one project that stands out for me is Ireland.ie.
We (Annertech) originally built it for the centenary of the 1916 Easter Rising. I wasn't involved in that version of it but it was repurposed a couple of years later as the main branding website for Ireland, for the Irish tourism board. I got to play for my country, is the phrase I use. You know, if you play for your national soccer team, or go to the Olympics… I do web design and as far as I'm concerned I got to play for my country. So I'm really proud I was the lead developer on Ireland.ie.
It's been repurposed now, and we don't maintain it anymore, but that was without a doubt my high point. We got lovely external validation for it. In 2016 for that website we won best arts and culture website, most beautiful website in Ireland, and best website at the Realex Web Awards. Annertech then went on to win Web Agency of the Year so it wasn't just that I went to play for Ireland. It's that we won 3-0.
Alison: Is there anything you really would rather stay away from work wise?
Mark: Not really…. We are pretty good at Annertech at ensuring that the work people do is the work people want to do.  It's not just that Mark is a front-end developer let's make sure that he's doing front-end development. We go one step further and make sure that people are working on projects that they actually want to work on. 
But there is the issue of time. There's so much to do and there's so many people looking for my attention at the same time, and sometimes I'm trying to give my attention to other things and that does mean slightly longer days, but I think that at the director level we accept that. I think we're getting better at it.
Alison: What does the immediate future look like for you as project team leader?
Mark: I think the current project I'm working on is the last project I'll work on as a developer because my position on projects is as lead. I'll try to spend more time actually leading than writing code. So I'll be doing code reviews and quality assurance, and dropping in and out of two or three different projects at a time rather than spending four months on one. And that's pretty exciting.
I do like the business development area, but from the view of building relationships with clients or potential clients. I do a lot of work at the moment with LocalGov Drupal and chatting with UK councils, and l Iove that.
I really enjoy meeting clients for the first time and chatting about what we do and what they do and what they would like to be doing. I reckon in 2022 about 50% to 70% of my workload is probably going to be in the LocalGov Drupal area. I see that as a pretty good growth area for Annertech and I think that it's a thing that we are very good at given the work we've done with local councils and given how much we've been involved with the LocalGov Drupal movement, especially in the UK.
Alison: What are your interests outside of work?
Mark: I like web design, reading about the web, I spend a lot of time outside of work thinking about work, listening to podcasts about what I do or thinking of ways to do what I do better. You know that philosophy that if you enjoy what you do you'll never work a day in your life - well I have that approach. I don't see work as work, and I don't see outside of work as work finished.
In terms of general hobbies though, I love running. I used to run a lot when I was younger and then I took it up more seriously about three years ago. I've gotten into a lot of running, the longer distances suit me.
I love swimming. I didn't do much this year but I love open-water swimming and more specifically in lakes. I live close to Lough Derg. I love where I live. I love having the forest beside us. I love looking at the deer. We had a stag deer rutting there the last couple of weeks. He kept me awake all night but he had me mesmerised, looking at him through my binoculars all night.
I play guitar. I used to play guitar when I was a teenager and then I started up again the last couple of years, with my friend Mike. We go down to his office when they're closed and turn up the amps and light the open fire and play music and that's great craic.
I'm not really built for it but I enjoy playing rugby. I joined when I was 39, and I thought I don't want to get to 40 and start getting fat and old so I made a conscious decision then to do more exercise. And I was good friends with the lads at the rugby club and they asked me to join and I said I would come for the training but I'm not playing any matches.
So I started and I fell in love with it right away. And then we'd get to a match and someone would get injured or someone would get tired and then I'd end up playing for the last five minutes, and then for the last 10 minutes and then the last match we had I ended up playing the whole match. So my wife was giving out - saying I'm 44 and every time I get hit in rugby I complain for two weeks afterwards but yeah I'm still training with the rugby team and I'm the secretary of the club. It's great fun.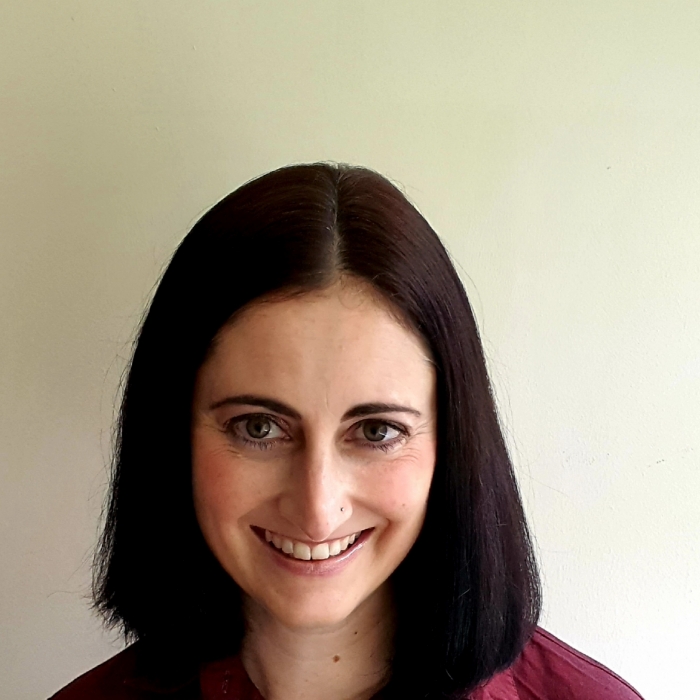 Alison Visser
Content Writer
Alison is a content writer for Annertech. After more than two decades in journalism she now specialises in digital media and editing.