Category
News
Publication date
18 September 2023
15 years of ambitious digital experiences
Time to read
8 minutes read
As Annertech turns 15 we take a look at how it all began, and how it got to where it is today.
It started out as a fun hobby. But Stella Power's interest in coding and the Drupal project resulted in her quitting her job to start Ireland's first Drupal specialist agency. Eight years later Annertech was named Ireland's agency of the year. Now, 15 years down the line, Annertech has branches in Ireland and the UK, staff located all across Europe, has created hundreds of websites and counts household names as clients. There are so many highlights. Here are a few of them.
The beginning
Stella had been contributing to the Drupal project for about three or four years "just as a hobby, for fun" when, in 2008, she decided to take some annual leave and go to Hungary, to attend DrupalCon Szeged. 
DrupalCon is a highlight on the calendar of everyone who works with and contributes to the open-source Drupal CMS. But for Stella, it was a turning point. She was inspired by everyone she met at the conference. 
"There were no agencies in Ireland specialising in Drupal at the time, but here were people working with Drupal as part of their job, helping clients achieve their goals, doing what they loved and creating fabulous websites. It got me thinking: 'Why can't I do that too? Why can't I start Ireland's first Drupal specialist agency?' And so in the weeks that followed, I quit my job and started Annertech," she said.
The early years 
Annertech got its name from the River Anner, which runs through Stella's family's farm in County Tipperary. And things started to flow quickly for the newly established agency. 
"At the beginning it was exciting, but also a bit scary as Stella gave up a well-paid job to follow her dream," said Dermot Frost, Stella's husband and co-founder of Annertech. He has since stepped back from the day-to-day affairs of Anertech but remains on as a director. 
"Getting the first few clients, even for very small jobs, gave us a great boost and we haven't looked back since." 
One of Stella's favourite moments was when Annertech won its first contract with a household name in Ireland. 
"This was only a few short months after we started and it was for the Irish charity, Trócaire. Every school kid in Ireland knew them growing up from their Trócaire Box fundraising campaigns, so it really was a very recognisable brand. It set up Annertech for great success in the years that followed."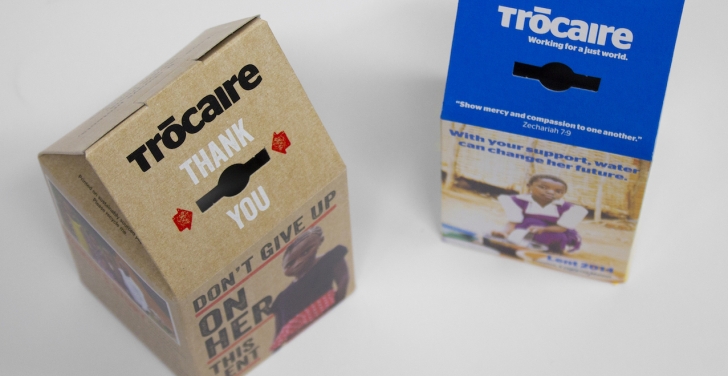 Trócaire Box fundraising campaigns are well known among Irish school children.
In 2010, Alan Burke joined Annertech as a director and frontend developer. He was based in Galway at the time, and this was where the concept of a distributed company really started to take shape.
Anthony Lindsay, who is now Managed Services Director, joined Annertech in November 2011 as a maternity-cover developer because Stella was going on maternity leave. He was also based in Dublin at the time and the plan was to work from Stella's house for two weeks, until he found his feet.
"Something I'll always remember is the evening before my first day, when I realised my commute had jumped from 5km to 210km because Stella had gone into labour early. I had to go to Galway, so Alan could show me the ropes.
"At that stage Annertech was tiny – me, Stella, Alan and another designer/frontend developer. We only talked once a week, over Skype."
2013 was a pivotal year for Annertech. It was the year that Mark Conroy, Director of Development, and Mike King, director of delivery joined Annertech. And so did developer Gavin Hughes.
"Annertech was much smaller then," said Gavin. "Pretty much the whole team could have squeezed into a single car!"
And then the burgeoning company won its first overseas client. Although they aren't currently with Annertech, the Royal Musuems Greenwich project was a turning point.
"It was a household name. It was a massive project. But, more crucially, it led to the development of the Managed Services team," says Alan.
The expansion
The Managed Services team was officially born in 2013 at DrupalCon Europe in Prague. "It was the first time where we needed to book entire apartments for the team, rather than just a few hotel rooms. It was a sign of just how much we had grown," said Dermot. And it continued to grow. "One of the things that was great about those times was how easy it was to organise meeting up with each other," said Mark. 
"We'd decide a day, book a venue, and all meet up. With 40+ people it's impossible to find a day that everyone can meet. For the last few years we've been trying to meet up at DrupalCon, such as in Lille this year, but even at that we can only get about 30 of us together. And you can imagine the logistics of trying to book flights, accommodation, food, etc for that many people." 
Some of the Annertech team members at DrupalCon Prague in 2022.
As the team grew, so did the scale and types of projects that Annertech took on. Today, Annertech is a truly distributed company. 
Not only is there no physical office but team members live in all parts of the world – although there's a good chunk in Ireland and the UK, there are many team members spread across Europe (Spain, Croatia, France, the Czech Republic, Luxembourg, Romania, Sweden, the Netherlands, Greece and Italy) and even as far afield as Lebanon and Taiwan.
Projects grew, and flew 
"When I joined Annertech we were a team of seven," said Mark. "Our projects were smaller than our current ones in general and would take two to three months to complete. These days many of our projects are way larger, taking a team of six or seven people up to six to nine months. 
"In 2013 we did very little design or content work, where we now have design and content teams and can provide an end-to-end service. The amount of expertise we now have available in terms of technology, experience, and culture with people spread all over Europe is pretty humbling." 
One of Annertech's proudest achievements was the Ireland.ie project, a website commemorating the anniversary of the 1916 Rising.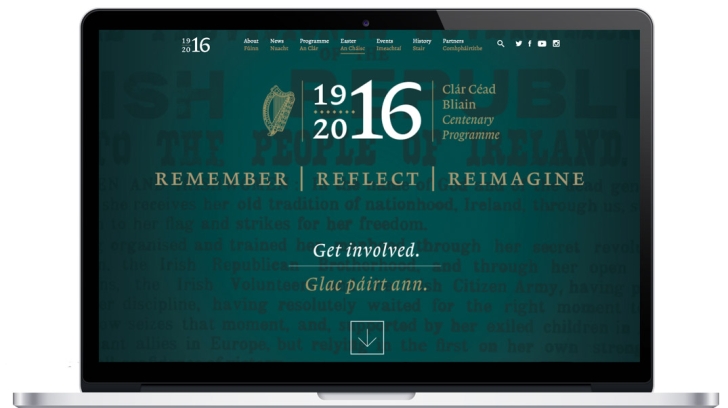 The award-winning ireland.ie website was created in 2016 to commemorate the anniversary of the 1916 Rising.
"It was a national project and we were honoured to be a part of it. We also won a number of awards for our work on the project, including Best Website, and also Agency of the Year, which is just amazing," said Stella.
"Another of my favourite moments came at one of our Annertech Days. These are internal team retreats where we all get together to work on the business and to just meet, hang out and have fun. There was one Annertech Day in particular, in 2019, when there were around 20 of us in the company, and for some of us it was the first time meeting each other in person. It was just amazing, humbling even, to look around the room with everyone chatting and laughing, and just take that moment to take a step back and look how far we'd come and how much we had grown."
Annertech today 
Although the team has grown, as has the scale of the projects and the service offerings, Mike believes that it feels the same now as it did when he first joined – "in the same way a small-scale view of a fractal pattern looks the same at a larger scale". 
"The spirit of openness, the desire to do a great job and the amazing knowledge were still there and have been secured as the view of the fractal zooms out to now to include more people." 
Annertech is made up of three arms – design and development projects; support and managed services; and business development and account management. 
Its services offering has grown in the past few years, and now includes website support, a fully managed hosting service, Drupal security updates, CMS upgrades, ongoing incremental development, optimisations and new features - SEO, A/B testing, streamlining processes – and consultancy services such as design/UX, performance audits, security audits, content strategy, accessibility audits, digital marketing and SEO.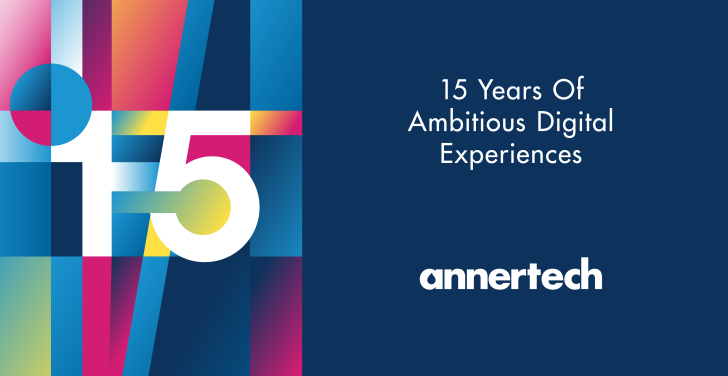 Over the years, hundreds of clients have passed through Annertech's capable hands, many of whom have stayed with Annertech for many years. The Managed Services team currently manages close to 100 sites on behalf of clients.
Yet despite the scale, Dermot believes that things haven't changed that much since Annertech was formed 15 years ago. 
"Now we're working with big national and even global companies but I'd like to think we still give them the same amount of care and attention that those initial clients got."
Do you have an ambitious idea for a project?
We love turning clients' visions into reality. Let's get yours started.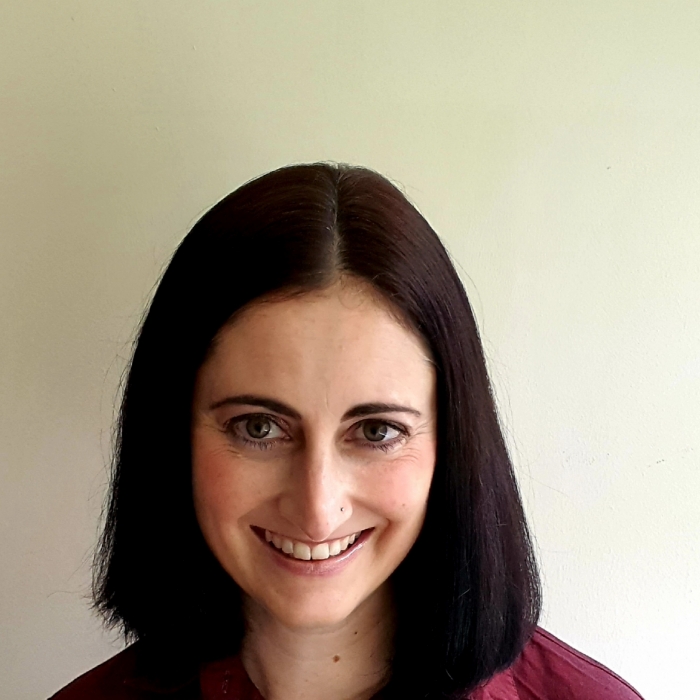 Alison Visser
Head of Content
After more than two decades in journalism, Alison now collaborates with Annertech's clients to ensure that their content is the best it possibly can be.