Category
Technology
Publication date
10 September 2018
D is for Darmstadt; D is for Drupal Europe
Time to read
2 minutes read
The Annertechies have been taking to the air for the past two days flying into Frankfurt en route to Darmstadt for Drupal Europe.
As ever, we have brought our bags of knowledge with us to share out our goodies. On Tuesday, Mark Conroy will co-present on the new installation profile and theme for Drupal core - Umami. This is part of the "Out of the Box" initiative of which Mark is co-maintainer. Mark will be accompanied by two other leads from that initiative - Eliot Ward and Keith Jay. Later on Tuesday, the three will co-host a BoF to set the parameters for what they want to achieve during the weeks' code sprints.
Also on Tuesday, Stella Power will co-present a session on Drupal governance. Maybe you already heard about the Governance Task Force. This is a chartered group that was formed to make a proposal on community governance in Drupal. The session will share what the task force is doing, how to get involved, and the current progress of the Task Force.
Not to be outdone, David Thorne will - again on Tuesday (we've a busy Tuesday!) - give a presentation on the Islandora CLAW distribution for Drupal. This talk will introduce CLAW's key concepts to educational establishments, many of whom may already use Drupal for websites, as well as Fedora Commons for their digital asset collections.
Wednesday is the day we'll all relax after our presentations on Tuesday, and look forward towards Thursday where we'll host the usual (pretty crazy) Drupal Trivia Night Quiz, along with an army of volunteer runners, judges, and the ever-dapper host - Anthony Lindsay.
On Friday, we'll crack open the laptops and contribute as much code as we possibly can to the Drupal project, before flying home Friday night and Saturday morning.
Oh, and - we're hiring!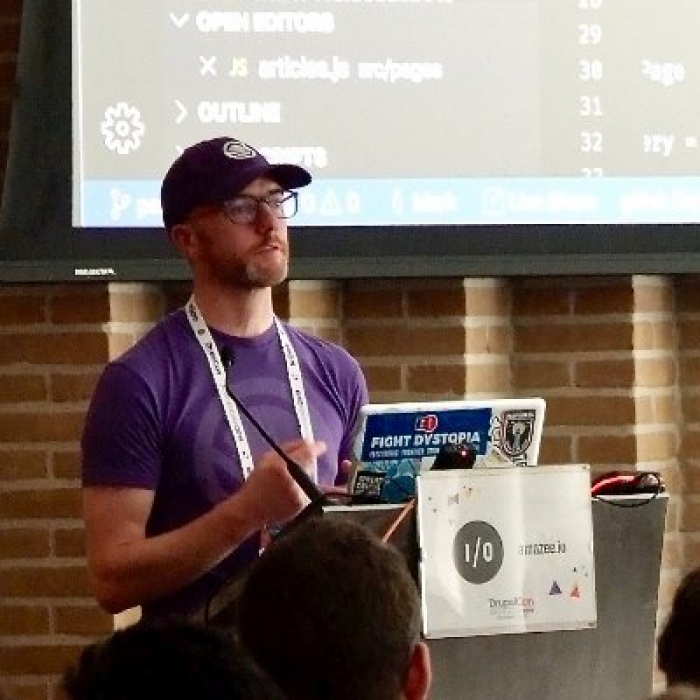 Mark Conroy
Director of Development
When not promoting sustainable front-end practices at conferences across Europe, Mark leads our development team to create ambitious digital experiences for clients, so they, in turn, can have success with their clients.