Category
Strategy
Publication date
11 February 2021
Why an open DXP enables flexibility and speed to market
Time to read
5 minutes read
In January 2020, Gartner announced that it was retiring the Web Content Management (WCM) Magic Quadrant. You might believe WCM is dead, however it is now an integral component of Digital Experience Platforms (DXP).
When choosing a DXP, you will be confronted with the choice of traditional, closed software and open API-driven options. In this article, we look at why the latter makes sense on a number of fronts.
A quick recap: DXP as an ecosystem, not a product
As we outlined in an article last summer: "A DXP is not a product. It is an integrated, centralised enterprise software framework or ecosystem that gives a company the ability to differentiate itself from the competition and drive more customer engagement and ultimately more revenue."
Though there are a host of well-established software vendors in the DXP space, they tend to offer productised bundles of capabilities. Not only do you have to purchase licences for these productised bundles, but you are the behest of the vendor and its product roadmap. 
In other words, if you want interoperability with closed DXPs, this requires you to fully buy-in to their technology stack, from which you cannot usually deviate from. There is also the quandary of total cost of ownership (TCO) and whether you want to be shackled to that technology when you see your competitors being more agile in terms of market conditions and customer expectations.
Open DXP: flexibility, extensibility and speed to market
An open DXP is in many ways the antithesis of what we have just touched on regarding proprietary DXPs. There is no lock-in or reliance on a vendor and how they develop their software capabilities.
This approach gives you the ability to create, develop, personalise and manage digital experiences throughout the customer lifecycle. However, importantly, you are in control of the DXP, its constituent parts and how quickly you want to develop its capabilities. So effectively, you dictate the pace of your DXP capabilities rather than having to rely on a vendor's software roadmap.
The key to a well-functioning DXP is API-driven integration between disparate, yet complimentary systems. As mentioned above, a DXP is an ecosystem that comprises key capabilities such as WCM (often the linchpin), personalisation engine, CRM, analytics, customer data management – to name but a few.
So, with WCM at its core, companies can plan their digital presence by bringing together capabilities from multiple applications to create relevant digital experiences. It is the rapidity and flexibility of this model that sets it apart from closed, proprietary offerings.
A DXP can provide optimal digital experiences to a variety of constituents, including consumers, partners, employees, citizens and students, and help ensure continuity across the full customer lifetime journey. It provides the presentation orchestration that binds together capabilities from multiple applications to form seamless digital experiences. Gartner
Acquia's meteoric rise in the Gartner Magic Quadrant for DXP
Back in 2018, when Acquia was formulating its open DXP strategy, they were firmly in the "Challenger" Quadrant for DXP, and they knew that they had to add more string to their bow if they were to become serious players in this area.
Through some astute acquisitions in the intervening period, Acquia now has marketing automation, low code capabilities, and a customer data platform to augment its DXP ecosystem. 
This resulted in a significant jump in terms of how they are perceived in the DXP space, becoming a "Leader" in the 2020 Quadrant and the preeminent proponent of open DXP globally.
In the most recent Gartner Report, Acquia has again made progress and are now second in the "Leaders" Quadrant in terms of completeness of their DXP offering.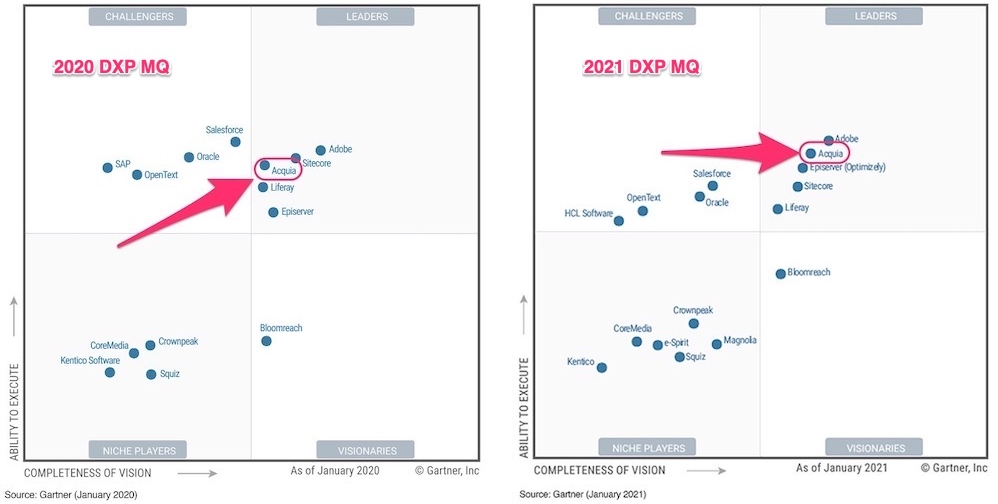 So what does Acquia actually offer? In a previous article, we summarised it as follows:
Acquia's Open DXP coherently integrates Acquia's platform to build, design, and run digital experiences (Drupal Cloud) with an end-to-end, data-driven marketing platform to create, personalise, and enhance customer journeys (Marketing Cloud).
Importantly, the new Marketing Cloud includes a Customer Data Platform (CDP) that gives marketers a 360-degree view of the customer. Based on real-time data integration and machine learning insights, this new addition to Acquia's DXP ecosystem enables the delivery of highly personalised customer experiences.
In conclusion
So WCM is still very much with us. It is now an important component and usually the fulcrum of a DXP. However, what today's leaders need to decide is whether traditional, closed DXP software can keep abreast of the myriad of challenges (& opportunities) in our increasingly digital-first world. 
An open DXP offers you the agility you need to proactively gain competitive advantage over your competitors. Those companies that embrace an open, API-driven DXP approach will be far better placed to create relevant digital experiences for their customers while not being hamstrung by a particular vendors product development roadmap.
The agility, flexibility, and extensibility of an open DXP puts you in the driving seat, not the vendor. 
Is this an opportunity you can ignore?
Want to learn more about how an open DXP can drive customer engagement?
Why not get in touch and we can demonstrate how an open DXP can transform your digital presence.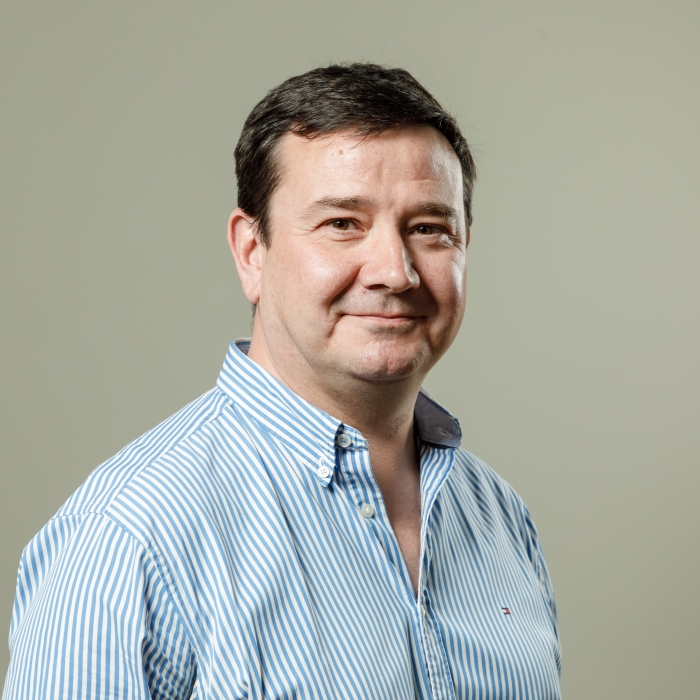 Gary Cosgrave
Commercial Director
Gary is Annertech's Commercial Director and for over 20 years has advised clients in both the public and private sector in digital adoption and achieving meaningful ROI.