Category
Technology
Publication date
07 November 2023
Join us for LocalGov Drupal Week 2023
Time to read
5 minutes read
It will be a week of learning, sharing and celebrating next week, as the community behind the groundbreaking CMS for councils, LocalGov Drupal, hosts its first LocalGov Drupal Week.
Are you interested in LocalGov Drupal but just need to know more about it? Or are you involved with the project and would like to learn more about new features etc? 
The community spearheading this exciting project is holding their first annual LocalGov Drupal Week next week, from 13 to 17 November. It will take place in the form of virtual sessions, in which they'll be sharing best practice, code and experiences, all focusing on doing more with less. 
It's exactly this philosophy – doing more with less – that inspired the birth of this platform, which is designed by councils for councils. 
A few years ago, a few councils in the UK decided to save money by pooling their resources and sharing the code for their websites. This, in turn, allowed for other councils to come on board, using the code and instead paying for new features to be developed and added back into the pot. 
The LocalGov Drupal project has grown quickly, and has 42 UK and Ireland councils on the platform. 
LocalGov Drupal Week offers both these councils and ones that are considering moving their websites to LocalGov Drupal an excellent opportunity to network and solve problems with digital professionals from councils and their suppliers. 
Sessions will be presented virtually in three slots: 12pm to 1pm; 1pm to 2pm and 4pm to 5pm. Here are the sessions that will be taking place, including one on 16 November from Annertech's Director of Development Mark Conroy. 
Mark will be focusing on how LocalGov Drupal can be used to easily run a fleet of microsites.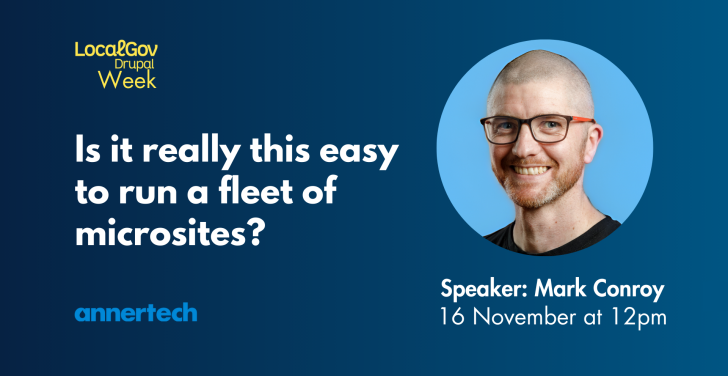 "We are so excited to host this, the first, LocalGov Drupal Week, and are looking forward to meeting everyone and answering any questions," he said.
"I'm extremely excited by the Microsites Platform in particular. It has taken the difficulty out of hosting many microsites simultaneously – which is something that many large organisations will be thrilled about – and I can't wait to show people exactly how it works."
Join Mark on Thursday at 12pm to find out more about the LocalGov Drupal Microsites Platform.
Session list 
Monday, 13 November 
4pm – How can we incubate a healthy, collaborative accessibility community in LocalGov Drupal?
Hosted by Maria Young, Open Digital Cooperative and Agile Collective 
Tuesday, 14 November 
12pm – Using LocalGov Drupal with Outpost to build a user-led directory of community service.
Hosted by Alex Sturtivant, Royal Borough of Greenwich Council 
1pm – Introducing our latest feature: HTML Publications for LocalGov Drupal. Hosted by Justine Pocock, Chicken 
4pm - Upgrading LocalGov Drupal - Drupal 10 and beyond. 
Hosted by Finn Lewis, Open Digital Cooperative 
Wednesday, 15 November 
12pm – Creating an Accessible and User Driven Experience Out-Of-The-Box. 
Hosted by Shazia Attia, Invuse 
1pm - Contributing to LocalGov Drupal: where to start? 
Hosted by Maria Young, Agile Collective and Open Digital Cooperative 
Thursday, 16 November 
12pm - Can Running a Fleet of Microsites Really Be This Easy? 
Hosted by Mark Conroy, Annertech 
1pm - Creating Inclusive Experiences for SEND Audiences Using LocalGov Drupal 
Hosted by Leila Dewhurst, Invuse 
4pm - Explore Hammersmith and Fulham's new website and custom features 
Hosted by Justine Pocock, Chicken and Ryan Falcon-Hay, Hammersmith and Fulham Council 
Friday 17 November 
12pm - Introduction to content migration 
Hosted by Simon Chapman, Agile Collective 
1pm - Why I became a member of the Open Digital Coop 
Hosted by Will Callaghan, Open Digital Cooperative
Interested in LocalGov Drupal?
If you'd like to know anything about LocalGov Drupal or its new Microsites Platform feel free to contact Mark, who did great work on LGD's new base theme, and has been involved with the project since its Beta phase.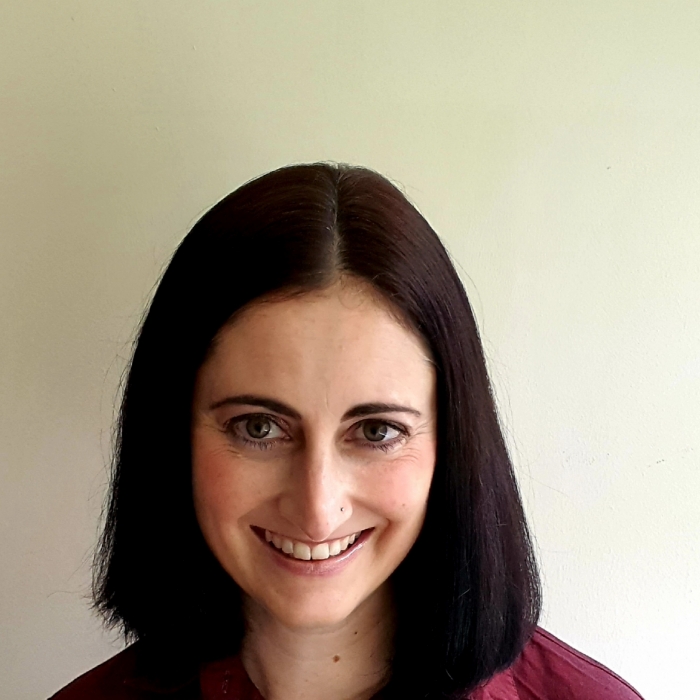 Alison Visser
Head of Content
After more than two decades in journalism, Alison now collaborates with Annertech's clients to ensure that their content is the best it possibly can be.