Category
News
Publication date
27 October 2023
DrupalCon Lille: Our highlights
Time to read
13 minutes read
Lille hosted a very special DrupalCon Europe. From great presentations to special moments, these are Annertechies' favourite moments of DrupalCon Lille 2023.
What was your favourite DrupalCon highlight? It's a question we ask after every DrupalCon, and this one answer always comes up: "being in the same room as my colleagues". 
It's a luxury for us at Annertech – we are a fully distributed company and, although we may meet up with one or two colleagues during the year, it is rare to have a large number of us together in one go. 
This DrupalCon saw 23 of us descend on Lille for our annual Annertech Day. It's a chance for us to brainstorm, chat and catch up, and we love it. 
"Meeting Annertechies again and for the first time was one of my highlights of DrupalCon," said developer Layal Khatib, who travelled from Lebanon to Lille. 
"That is always my favourite part. But this time I even met people I had previously worked with online, whom I never thought I would meet, ever!" 
Plus we had a really good reason to celebrate – this year is Annertech's 15th anniversary! And we made the most of it – cramming in lots of toasting, eating, bowling, World Cup rugby, and we also managed to see a bit of beautiful Lille! 
Other than seeing people face to face again, there were so many great things that happened at DrupalCon Lille. Some of the more than 1,300 attendees travelled long distances to get there – we met people from all over the world – and the organisation was top-notch, bringing attendees diverse and interesting keynotes, presentations and activities.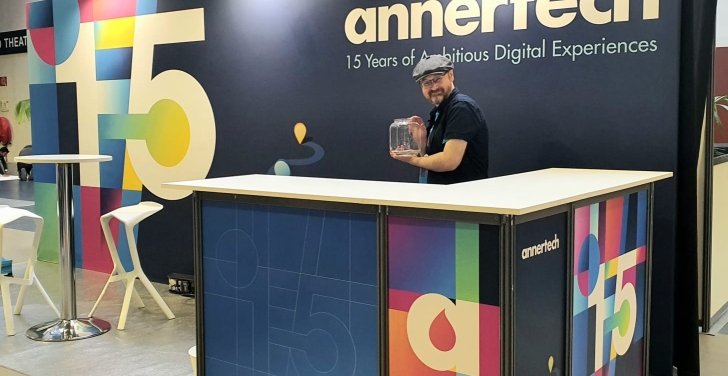 Head of Infrastructure Daniel Pickering helps set up the Annertech stand.
We were incredibly proud of our exhibition stand this year. Our designers Luke Brennan and Ricardo Galan outdid themselves with the 15th anniversary branding. 
The stars of the show, however, were the Annertech stress balls, which are so multifunctional there was an updated version of last year's Ball in the Bowl game, called Bounce the Ball in the Bowl, as well as numerous informal juggling demonstrations. 
But the main highlight was that our stand became Annertech HQ for three days. People knew where to find us – and they did. Stand 5 hosted so many people, from new friends to old favourites, people who came to ask questions about our presentations, or to pick the brains of those who may have the answers to tricky coding questions, and those who just wanted to see if they could juggle. Thank you all for popping in. You made DrupalCon Lille extra special for us.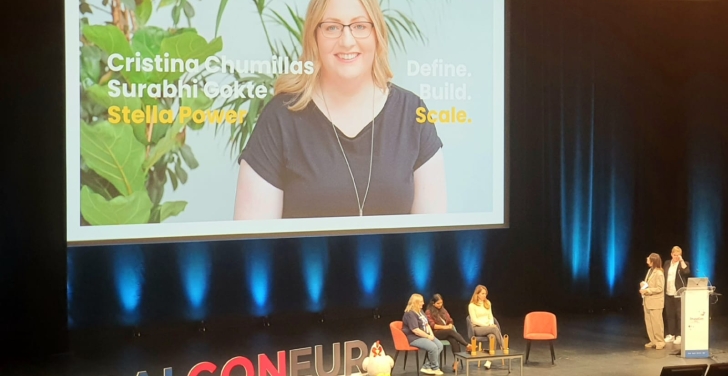 Stella Power won a Women in Drupal Award in 2022, and was on the judging panel for 2023.
Managing Director Stella Power was on the advisory board for this conference. She also helped with organising the opening ceremony and was a judge for this year's Women in Drupal award (see below). 
As usual, Annertechies volunteered at Trivia Night (see below) and at DrupalCon itself. 
"It was a week of "firsts" for me," said developer Simon White, who joined Annertech nearly a year ago. 
"I enjoyed meeting my lovely Annertech colleagues for the first time, I also had a blast volunteering for the first time where I manned the photo booth. I noticed people were just walking past it and missing the fact that they could have their photo taken with Lil' Rooster, so I stepped up my engagement and sold it. I also like to think that helped get the bid to €430."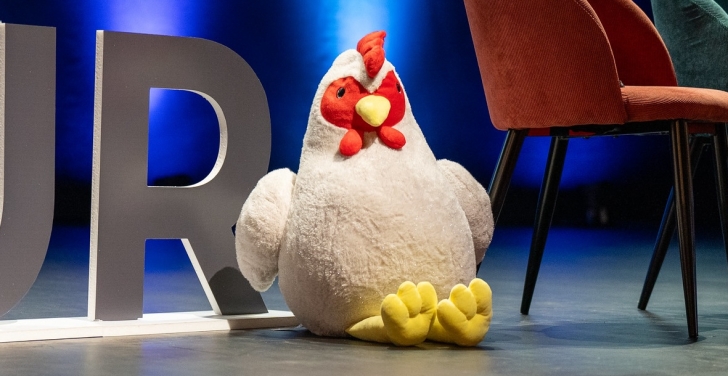 The DrupalCon Lille mascot, Lil' Rooster, was auctioned off, fetching €1250.
Lil' Rooster – the mascot for DrupalCon Lille – was auctioned off for charity. Its new owner, Aikaterine Tsiboukas, donated €1250 to the Drupal Association.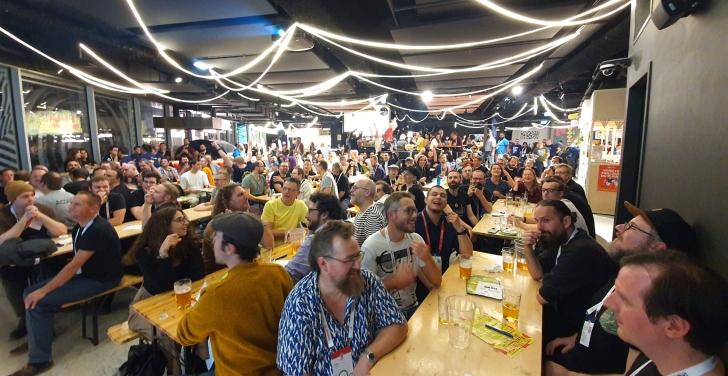 Trivia Night at Drupalcon Lille packed Grand Scene Lille to the rafters. The winning Amazee Labs team (bottom right) each won an Airpaq backpack by FFW.
DrupalCon wouldn't be the same without Trivia Night! And this year's was packed – with trivia tables extending outside the initially reserved area at Grand Scene Lille.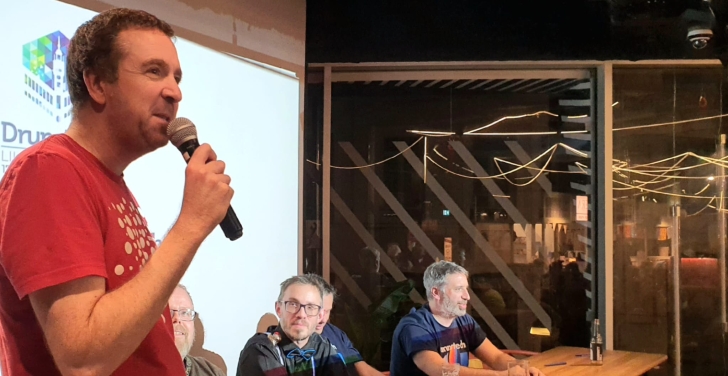 Quizmaster Alan Burke delivered the trivia questions with his trademark dash of humour.
 
Once again, the quizmaster for Trivia Night was Annertech's Director of Technology Alan Burke, who had great fun with the decibel meter. His goal was to hit 100.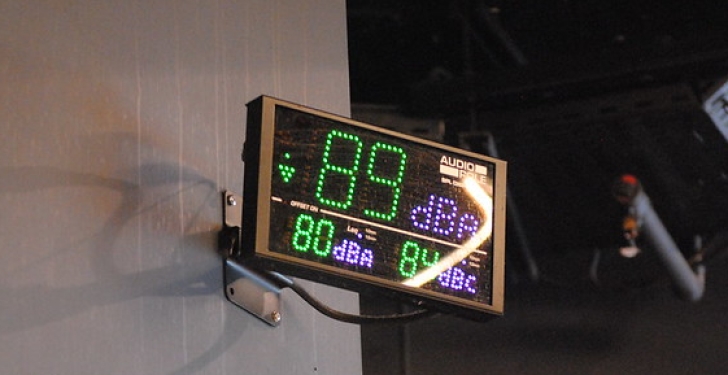 The decibel meter at DrupalCon Lille hits 89.
It was difficult to decide who was enjoying it more – Alan or the judging panel of Hilmar Hallbjörnsson (Drupal Viking), John Cook (who was the volunteer coordinator for DrupalCon Lille), Anthony Lindsay (Annertech's Director of Managed Services) and Tony Barker (developer at Annertech).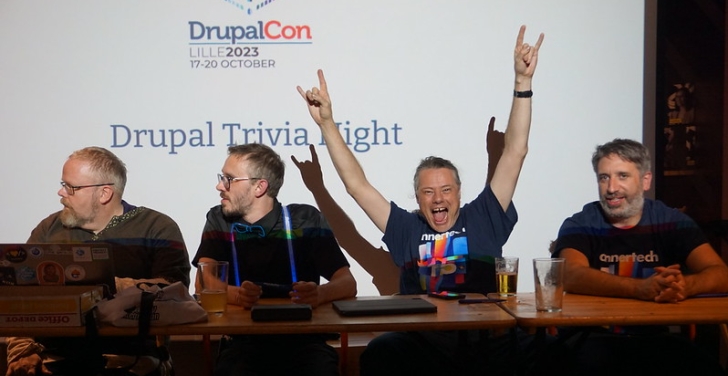 Hilmar Hallbjörnsson, John Cook, Anthony Lindsay and Tony Barker
The night was won by the Amazee Labs team, who walked away with Airpaq backpacks from FFW. Thanks to all the sponsors, organisers, attendees, volunteers who made it possible. 
Annertechies presented two talks at DrupalCon Lille. Both talks had excellent turnouts, and the interest was exciting – thanks to everyone who popped round to ask questions and make suggestions.
Can running a fleet of microsites really be this easy?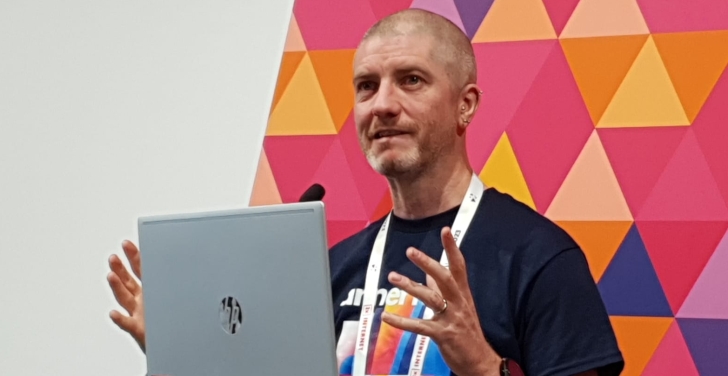 Mark Conroy talks about the LGD Microsites Platform at DrupalCon Lille.
Keeping two platforms live at the same time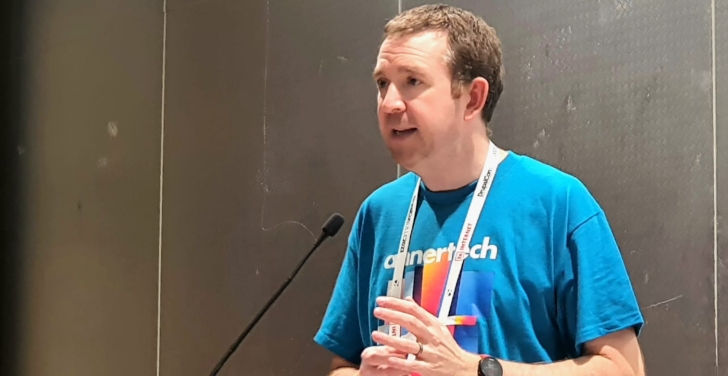 Alan Burke talks about running two systems simultaneously.
Director of Technology Alan Burke's presentation was also well-attended and garnered a lot of interest. It was titled: "Having your cake, and eating it too: Using Varnish to serve content from your new Drupal site alongside your Legacy platform - keeping 2 platforms live at the same time."
He spoke about how to run two platforms simultaneously rather than making a big switch when swapping from a legacy platform to a new one. It was based on a strategy that was implemented in the massive University of Limerick migration project.
Other presentations 
Project Browser update 
Simon thought the Project Browser update was excellent. 
"It was great to get an overview of where the project currently is and I liked that there was a focus on what we could do to help," he said. 
Co-initiative leads Leslie Glynn and Chris Wells presented on the current state of the Project Browser Strategic Initiative, what problems they are trying to solve, what remains to be accomplished to get Project Browser into Drupal core, and where people can chip in to help move the initiative forward. 
"I met Leslie G at the photo booth and said I enjoyed her talk. She asked me what I liked doing as a contributor and I relayed that I liked writing documentation, her eyes lit up as there were lots and lots of issues which needed reviewing relating to checking the descriptions of the downloadable modules. This has inspired me to go through the issue queue," said Simon. 
The Editora11y module 
Simon also attended the talk on the EditoriA11y ("editorial accessibility ally") project. Presenter Mark Casias took attendees through the ins and outs of the EditorA11y module, which checks the content automatically and will warn editors and site builders on accessibility errors.  
"I liked the presenter, I liked that he packed a two-hour presentation into 20 minutes (it was presented at the US DrupalCon this year) and could see how this could be a useful tool for our clients," he said.
Improving Layout Builder user experience 
Developer Layal Khatib enjoyed "Improving Layout Builder user experience", presented by Dharizza Espinach 
"It was super interesting. A bit long, but really good. I didn't realise it was going to be a 2.5 hour long workshop ... and I didn't even have my laptop but managed to take a picture of the outline that was shown at the beginning, and wrote down some cool modules to try out later. So even though I didn't attend with a laptop I got the information I needed." 
Keynotes 
The Driesnote, by Dries Buytaert was also a popular keynote. Developer Bill Seremetis said it was "nicely done of course, but also interesting". 
"Drupal identified mistakes from the past (for example that it's becoming harder to maintain) and is doing something about it," he said. "It looks like Drupal is 'here to stay'. Not that we ever thought otherwise, but it looks like things are getting more serious on that front." 
Another focus is the push to market Drupal and make it more accessible to the everyman – something that excited those who are not developers.
For Account Manager Karen Leech, the initiatives keynote was a highlight – "it shows the depth of passion and expertise in the community".
Celebrating the 2023 Women In Drupal Award winners!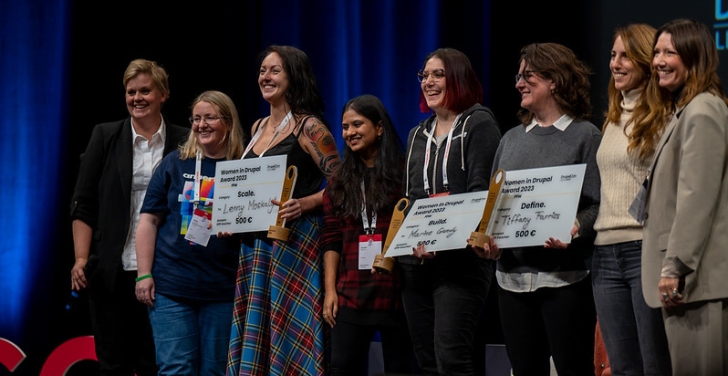 Stella Power (second from left) congratulates this year's Women in Drupal award winners: Tiffany Farriss, Marine Gandy and Lenny Moskalyk.
For Managing Director Stella Power DrupalCon Lille was all about meeting long-time friends, meeting Annertechies face to face, and getting to give a fellow Woman in Drupal an award. Stella was a Women in Drupal award recipient at last year's inaugural Women in Drupal Awards. 
The awards have three categories: 
Define

This category included everyone who works on defining an innovative Drupal project. This year's award went to palantir.net CEO Tiffany Farriss. 

Build

This category was for builders and makers: developers, architects, HR specialists or community members who help build a thriving Drupal community could be nominated. It was won by Marine Gandy, DevRel Engineer at Platform.sh and President of Drupal France. 

Scale

In this category everyone involved in scaling platforms or businesses could be a candidate for the Scale award. It's a category for developers as well as sales talents or consultants. It was this category that Stella won last year, and this year she handed the award to Lenny Moskalyk, senior project manager at Cocomore Scale Factory and a new member of the Drupal Association Board. 
"It was really hard to pick the winners," Stella said. 
"There are so many fantastic women doing great work in the community and leading by example, but we simply couldn't pick them all. I was delighted that this year we could move the Women in Drupal ceremony to the main stage and include it as part of the opening ceremony as it really helps shine a spotlight on these amazing women and their accomplishments." 
Karen also had the Women in Drupal Awards in her list of DrupalCon highlights. 
"It was great to see the awards on a big stage and hearing the back story to the new awardees." 
Conclusion 
Not only did the Annertech team have great fun at DrupalCon, we also learnt a lot. From the opportunities we had to grow and learn, to the relationships we formed and the laughs we had, we are already counting down to DrupalCon Barcelona 2024. See you all there!
Do you have any questions about our DrupalCon presentations?
Perhaps you'd just like to touch base? It's really easy to get in touch with the Annertech team. Just hit the button below.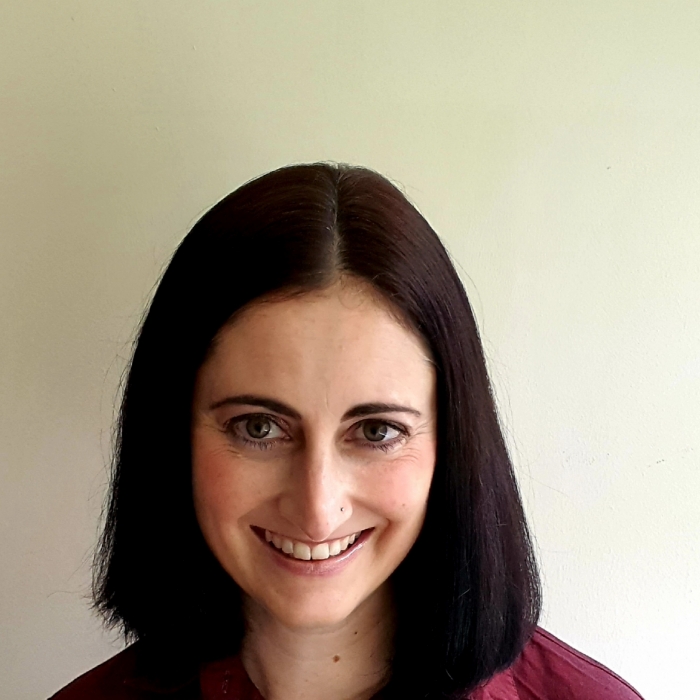 Alison Visser
Head of Content
After more than two decades in journalism, Alison now collaborates with Annertech's clients to ensure that their content is the best it possibly can be.