Category
Technology
Publication date
16 October 2023
The thrill of Lille: What we'll be up to at DrupalCon 2023
Time to read
4 minutes read
DrupalCon is always a highlight on the Drupal calendar, and we have been counting down to this year's conference since last year's.
This week will see hundreds of people make their way to Lille in France for a few days of fun, learning, contributing and socialising for DrupalCon Lille 2023. 
As usual, Annertech will have a strong presence at DrupalCon Europe – we love to give back to our community and share what we've learnt over the past year.
In a nutshell 
DrupalCon is a conference held around the Drupal CMS. Every year, Drupallers from around the world gather at either DrupalCon Europe or DrupalCon North America. 
This year's North American leg took place in Pittsburgh in June, and the European leg of the conference will be held at Lille Grand Palais in Lille, France, from 17-20 October.
Annertech at DrupalCon Lille
From being a platinum sponsor of the event and sponsoring the contribution room to speaking and volunteering, this is what we will be up to this week in Lille.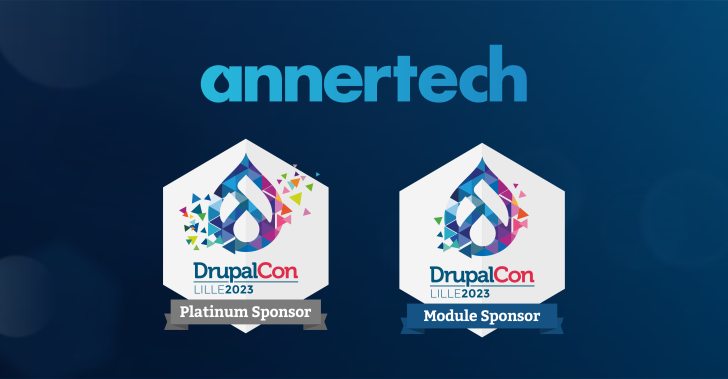 Annertech is proud to be a platinum sponsor of DrupalCon Europe – again! This is the third consecutive year we've been a platinum sponsor and we are delighted to be able to give back to the community financially, as well as through code and personal contributions. 
Annertech will also sponsor the contribution room again. This gives those who are contributing to Drupal a space to work away, surrounded by like-minded individuals to bounce ideas off if necessary.
2. Speaking
We're going to have two speakers at DrupalCon Lille – our Director of Technology Alan Burke and Director of Development Mark Conroy.
1. Having your cake, and eating it too: Using Varnish to serve content from your new Drupal site alongside your Legacy platform - keeping 2 platforms live at the same time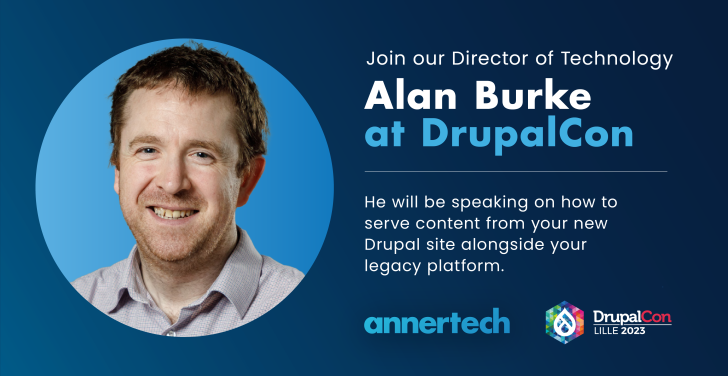 It sounds like a mouthful, but what Alan's demonstrating is a way to keep both new and legacy systems running simultaneously, rather than turning off the old platform and turning on the new one when switching from an old website to a new one. 
His proposal is to use a tool like Varnish to "split" the traffic between the two systems, only going 'live' with sections as and when they are ready. It's what Annertech did with www.ul.ie and Alan will show you exactly what we did and how we did it. 
Location: Room 3.2 on Tuesday, October 17, 2023 - 16:15 to 17:00
2. Can running a fleet of microsites really be this easy?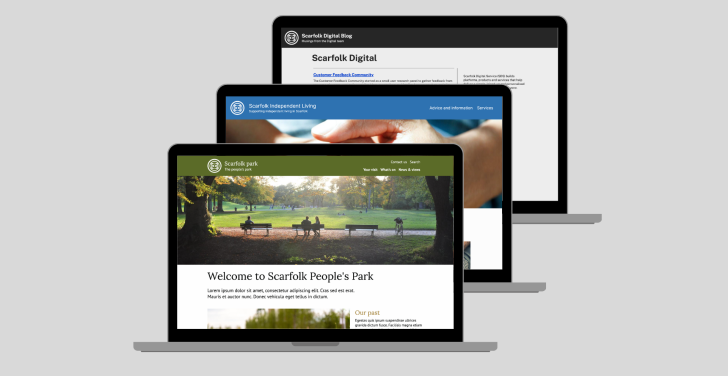 Come take a look at how easy it is to manage an unlimited number of microsites on the same platform, allowing each microsite in your fleet to share the same design, have its own theme or use the user interface to change the design at will. 
Mark was one of the lead developers on the LocalGov Drupal's Microsites project. The platform was built in a very generic manner, so it can be used by any organisation that needs to manage a fleet of microsites - universities, political parties, multinationals, etc. 
Location: Open stage on Wednesday, October 18, 2023 - 10:15 to 10:30
3. Volunteering 
It's not just about donating money to help make this DrupalCon great. Annertechies are involved in various other ways.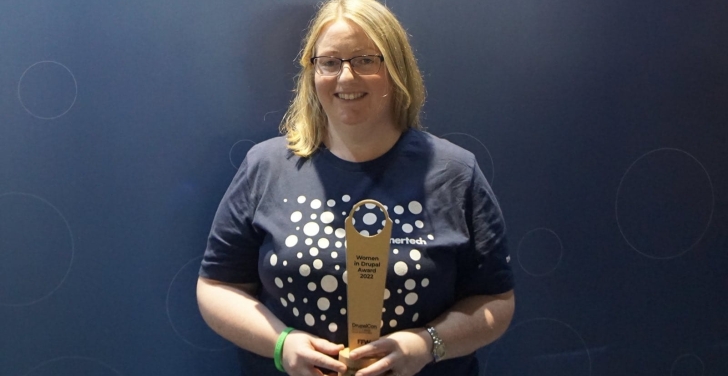 Stella Power at DrupalCon Prague 2022 with her Women in Drupal award.
Managing Director Stella Power was on the advisory board for this conference. She's also helped with organising the opening ceremony and was a judge for this year's Women in Drupal award, which she won last year. Annertechies will also be volunteering at Trivia Night (see Point 4).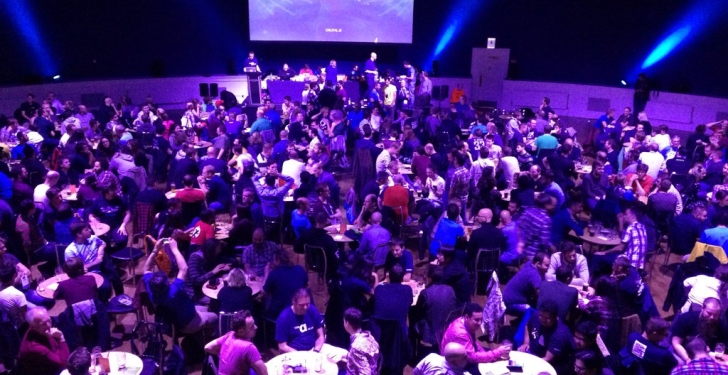 Trivia Night has become a popular highlight on the DrupalCon calendar.
Of course, we'll be leading the charge when it comes to organising Trivia Night – the Annertech team has taken this popular social event at DrupalCon under our wing, and we love coming up with questions around the world's best digital platform, and running the event. 
Trivia night takes place on the evening of Thursday, 26 October, so get your teams together and get ready for one of the most popular events on the DrupalCon calendar!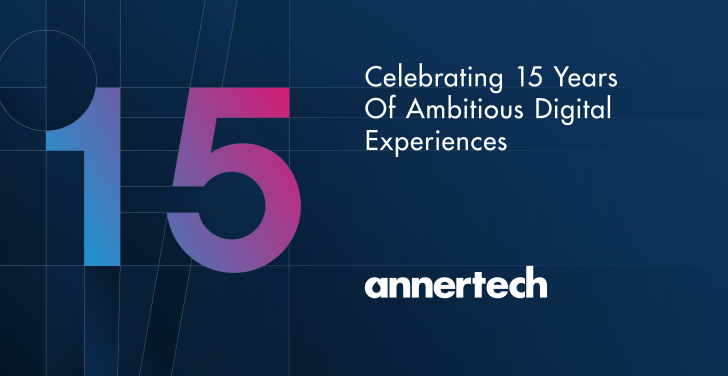 To top it all off, Annertech is celebrating! It's our 15th anniversary, so this DrupalCon is a very special one for us. 
We have about 25 Annertechies making their way to Lille ahead of DrupalCon, and we will be holding our annual Annertech Day over two days prior to the conference. This will consist of presentations, workshops and discussions, as well as lots of celebrating. It's a big milestone and we're excited.
Conclusion 
We love everything about DrupalCon – from learning about new technology and practices to sharing what we've learnt. Not to mention the evening social events and trivia night – which will, as has become customary, be led by Annertechies. 
The whole DrupalCon programme is available online, and it's a cracker this year. Have a look and mark off the sessions that whet your appetite. If you're at a loss, we highlighted the presentations we're looking forward to in this blog. 
Are you going to be at DrupalCon Lille?
Come pop round to our booth! We love chatting with fellow Drupallers, and can't wait to meet you there.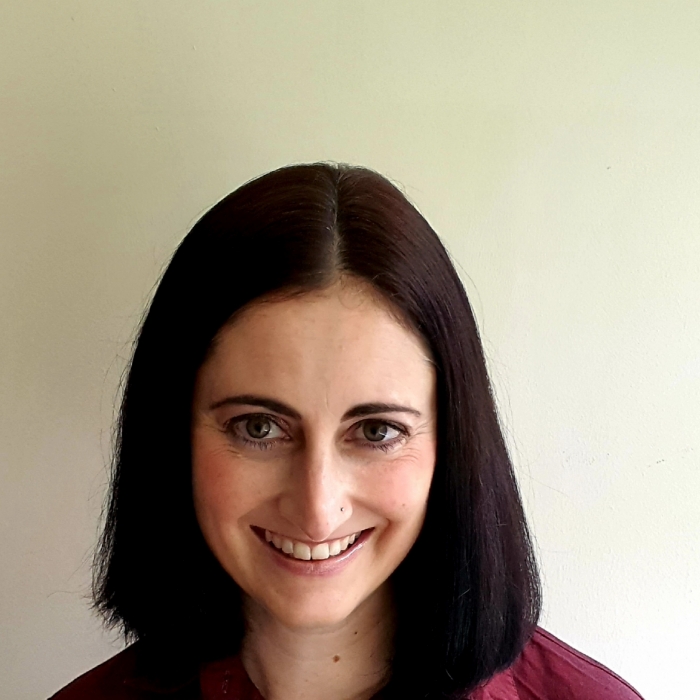 Alison Visser
Head of Content
After more than two decades in journalism, Alison now collaborates with Annertech's clients to ensure that their content is the best it possibly can be.